Well, dear readers, we had us a pretty fun Kritzerland at Sterling's 86 last night.  Although it was a fairly light audience compared to what we normally have, there were still around fifty people there and they were a very excellent crowd.  As always with the April Fools show, it was very eclectic, which is what folks expect. I had a good deal of fun myself – looser than usual, which I enjoy.  All the performers did splendidly.  Hadley Belle Miller could not have been better with the tricky opening number – so many laughs and she was flawless with the crazy lyrics.  Sami did really well – she woke up sick but amazingly sang through it just fine – a real pro she is.  Maegan McConnell did a lovely rendition of Richard Sherman and my So Many Empty Rooms – Richard really enjoyed it, and her The Tale of the Oyster was sly and delicious.  Lauren Rubin was terrific in all her numbers, as was Robert Yacko.  And new to us Stanton Morales was a real audience favorite and we'll definitely be having him back.  Easy to work with, delivers, and that's what we like.  Anyway, we all had a great time and as mentioned the audience was responsive and just wonderful.  In addition to Richard Sherman we had with us Grant Geissman, Lydia Geissman, and Grant's ninety-eight year old mom, who loves these shows and who, of course, was a small inspiration for the new book entitled GEE.  Our very own Marshall Harvey was there, young Peyton Kirkner was there with her mom – I stole her name for GEE and she was the first person to read the book via Kindle.  But she was so excited to get a hard copy and I wrote a very nice inscription inside. I also gave one to Richard Sherman. Occasional dear reader Leslie Young's daughter Alexa was there, and our own Amy and Mark were there, too.  I'm sure I'm forgetting folks.
Here's an actual photograph of our wonderful merry troupe of players.  Left to right back row is Stanton Morales, musical director Richard Berent, li'l ol' me, Robert Yacko, and Doug Haverty.   Front row, left to right is Maegan McConnell, Lauren Rubin, Hadley Belle Miller, and Sami.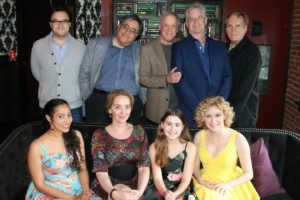 Here's the ubiquitous photograph of Sami and me.
And here's the ubiquitous photograph of Richard Sherman and me.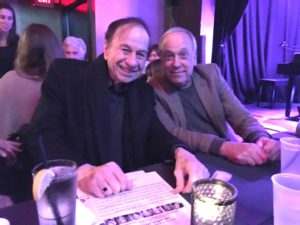 After the show, a nice group of us went over to Little Toni's for some food.  Sami and I shared mostaciolli with butter and cheese, and I had one slice of cheese pizza, all good.  Robert and Stanton and I stayed for another thirty minutes after everyone else left and that chatter was mighty fun as long as you weren't certain people, if you get my meaning and I know you do.
Prior to all that, I got eight hours of sleep, then just relaxed and saved my voice until it was time to mosey on over to The Federal for sound check and show.
Today, I have to be up earlier than I'd like, to do an errand, but then I'll probably go back to sleep if I can.  I think something else is supposed to be going on – some telephonic conversation or some meeting or some such thing, but hopefully someone will remind me about what it is.  I'll work on casting the May Kritzerland and start to figure out the material.  I'll eat, I'll hopefully pick up some packages, hopefully hear our new master, and get all the books ready for shipping. Then at some point I'll relax.
The rest of the week is meetings and meals, going and doing as well as doing and going, and prepping yet more new releases. Because we only had one in January and none in February I'm going to push a bunch of stuff through this month – maybe as many as four more titles – that will catch us up to where we should be.
Well, dear readers, I must take the day, I must do the things I do, I must, for example, do an early errand, figure out what may or may not be happening, eat, hopefully pick up packages, cast, and choose songs, and get books ready for shipping out first thing in the morning.  Today's topic of discussion: What did you do for Easter, Passover, and did you watch Jesus Christ, Superstar and, if so, what did you think of it.  Let's have loads of lovely postings, shall we, whilst I hit the road to dreamland, happy that Kritzerland at Sterling's 86 was so much wacky and foolish fun.