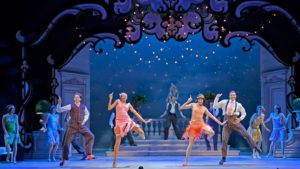 The High Stepping Ensemble (all photos by Caught in the Moment Photography)
Not much has been seen or heard from or about the New Gershwin Musical Comedy Nice Work If You Can Get It since its 14-month run on Broadway ended in 2013. It's a shame because, as the current Musical Theatre West production shows, there is a lot to love in this show. Joe DiPietro has written a very funny book based on the 1926 musical Oh, Kay!, originally conceived by Guy Bolton and P.G. Wodehouse, about bootleggers mixing with High Society on Long Island during prohibition. Director Larry Raben has given the current production that light, bubbly feel of freshly poured champagne while choreographer Peggy Hickey has devised some stellar dance steps for her talented troupe of hoofers.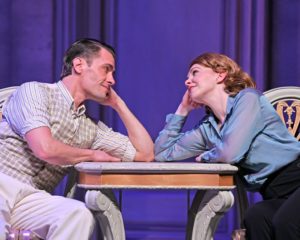 Eric Sciotto and Kelley Dorney
Jimmy Winter (triple threat Eric Sciotto whose effervescent charm keeps the whole show afloat) is celebrating his final day of bachelorhood as he is to wed his third, or is it his fourth, wife on the morrow. In a giddy, drunken stupor he meets bootlegger Billie (the equally adept triple threat Kelley Dorney). He lets slip the fact that his Long Island mansion is seldom used and a desperate Billie and her gang really need a hiding place for their gin. Jimmy's finance, Eileen ( Melina Kalomas), the "Delishious" interpreter of modern dance, has a judge/revered/Senator for a father (Doug Carfrae) and a dragon temperance demon of an aunt (Kathy Fitzgerald). Of course they all end up at the mansion and as the mistaken identities and hilarity grow, so does the romantic attraction between Jimmy and Billie. Great comic support is given by Jason Graae as bootlegger turned butler Cookie McGee, who should never be allowed to serve another meal.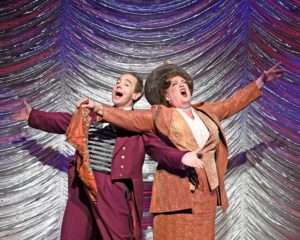 Jason Graae and Kathy Fitzgerald
Only two songs from the original George and Ira Gershwin score remain from Oh, Kay! but the added songs from the talented duo's songbook range from the new title song to "But Not For Me," "Sweet and Lowdown," "Let's Call the Whole Thing Off" and a dozen more. The score sounds great under the musical direction of Dennis Castellano and the voices are all top quality. As with most "jukebox" musicals, the songs don't always fit the scene they follow but with songs like these, that's a minor quibble. The Broadway designers' work—Derek McLane's scenery and Martin Pakledinaz's costumes—are shown to good advantage by Paul Black's lighting.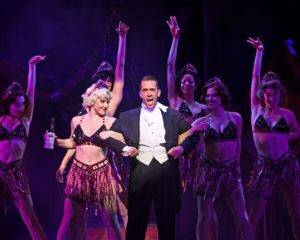 Eric Sciotto and his Bachelor Party Girls
There have been other New Gershwin musicals such as My One and Only and Crazy For You that had long runs on Broadway, lengthy National Tours as well as many regional productions. Seeing Nice Work If You Can Get It for the first time, I believe this show deserves much more exposure that it has received so far. It put a smile on my face, a lilt in my step and several hummable melodies on the tip of my tongue. Don't miss it! It really is Nice Work and you can see it if you hurry.
Carpenter Performing Arts Center, 6200 E. Atherton in Long Beach. Ends April 22. www.musical.org