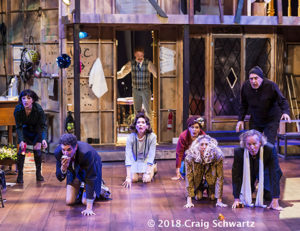 (all photos by Craig Schwartz)
What has eight doors and revolves? Answer: Fred Kinney's double-sided set for A Noise Within's revival of Noises Off. This marks the company's third revival of Michael Frayn's farce in the past decade or so. It's easy to see why ANW's audience keeps requesting it and then return to see it. It is non-stop laughs from beginning to end—some titters, some guffaws. Directors Julia Rodriquez-Elliott and Geoff Elliott have reunited most of the original cast and they are a very able gaggle of farceurs. Frayn's play is a rare three-act comic delight in this era of 60 minutes and done playwriting. Traditional farce calls for five doors onstage, the better to slam as one party enters and another leaves. Frayn, presenting 8 doors plus a window entrance, has created a mega-farce.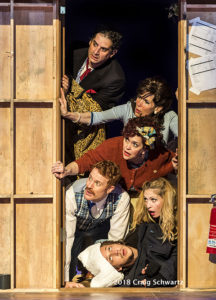 Frayn's characters are a troupe of touring players in the hinterlands of England, gamely trying to enact a British farce entitled Nothing On. The first act witnesses the beleaguered troupe trying to get through a final dress rehearsal in the wee hours of the morning before opening night. Act Two gives a backstage look at the players four weeks later when romantic entanglements are fraying and causing mayhem off and on stage. In the final act we witness the end of the tour a month later when the players are no longer even trying to keep a semblance of civility or professionalism intact.

Kasey Mahaffy and Deborah Strang
The cast of nine deliver the laughs, pratfalls, depantsing and plates of sardines with perfect split-second timing. This is one show where timing is everything and these players never slip up. They are led by Deborah Strang as Dotty, the show's leading lady and principal backer whose backstage romance with the much younger leading man Garry incites much of the mayhem. Garry (Kasey Mahaffy) is very jealous and when he thinks Dotty is cheating on him, he wreaks vengeance on his co-stars. Emily Kosloski as Brooke is the young newcomer to acting who has as much trouble keeping her clothes on as she has keeping her contact lenses in. Jeremy Rabb's Frederick is an insecure actor, constantly asking for his character's motivation, prone to nosebleeds at the first hint of violence which unfortunately seems to surround him. Jill Hill is the supportive Belinda, trying to be peacemaker to all the warring parties, but there is no Nobel Prize in her future. Geoff Elliott is the grandiose director who would rather be doing Shakespeare but instead finds himself in a love triangle with Brooke and stage manager Poppy (Erika Soto). Rafael Goldstein is Tim, the techie and understudy who never seems to get much right. Apollo Dukakis adds to the merriment as old timer Selsdon, missing his cues while trying to find the bottle of booze his cast mates keep hiding from him. If you have never seen Noises Off, don't miss this chance to see it done to perfection by the talents of A Noise Within. If you have seen it, don't miss this chance to see it again. Laugh and have a sardine.
A Noise Within, 3352 E. Foothill Blvd. in Pasadena. Ends May 26. www.anoisewithin.org