Well, dear readers, when I was a wee sprig of a twig of a tad of a lad of a youth I, like many of you dear readers of an age, used to buy the bargain bin LPs that they'd have in markets.  I used to love going through those – most of it was junk I would never want to own, but oh the treasures I found in our local A&P and Big Town markets.  I discovered some classic shows at Big Town because they carried those Ed Sullivan Presents albums.  But it was at A&P that I found some stuff that became favorites of mine.  One of the first jazz covers of a Broadway show I got there, Gypsy by a quintet whose name I can't remember, although I do have the LP out in the garage.  That opened up a whole new world to me.  And there was the time I found, much to my delight, a stereo copy of the MGM soundtrack to Gigi.  I was so excited, ran home, opened it so I could play it on my new stereophonic record player, but the album inside wasn't Gigi – it was some Broadway show called Whoop-Up.  So, I played that and loved it and it was in stereo, too.  That may have been the first flop show I'd ever heard.  At that point in my young like I only knew Rodgers and Hammerstein, and knew nothing of Mr. Hart, other than I'm sure I'd heard their songs.  Then one day I came upon a monophonic Columbia LP called On Your Toes, what they called a studio cast recording.  I didn't know what that meant, really, but it was only ninety-nine cents so I made the purchase, got it home and played it and loved every minute of it.  It featured Portia Nelson and Jack Cassidy.  The overture was great, and the minute that tune for the title song began I was in heaven and have remained in heaven with that song forever.  There's just something about it that just gets to me, musically and lyrically, which is why I put it on the New Guy in Town Guy Haines CD.
So, that was the track I listened to over and over again, but not quite as much as my true obsession on the LP – the Slaughter on Tenth Avenue Ballet.  That just slayed me – that was just some of the greatest music I'd ever heard, and I used to make up dances to it in my room. I played that album to death.  I was always disappointed that it never was issued on CD, but a few years ago that company called Arkiv released it as a CDR and I bought it.  I'd done a vinyl transfer long before that.  But somehow it got put somewhere in the CD closet with several other Arkiv releases I got at the same time and so I never opened it and forgot about it. But yesterday I was out in the garage looking for some other show CDs and found it and A Thurber Carnival and a couple of others, so in they came and I put them in iTunes immediately.  And so, as I write these here notes, I'm listening to this still wonderful album produced by Goddard Lieberson.  The CD has the original LP art – the LP I bought had a different cover as it was a later reissue.  Here's the cover of what I bought all those many years ago.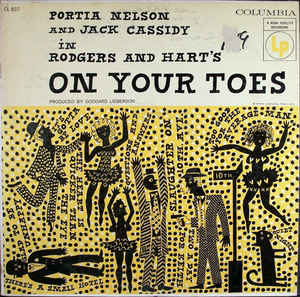 So, if you don't mind a CDR, I recommend this highly.  One only wishes that Sony would release these as pressed CDs with some proper remastering, because it could absolutely sound better than it does here.  It's perfectly fine, but a little TLC would do wonders.
Yesterday was a really kind of disgusting day for its first five hours, and that continued even after the worst of it, all stemming from an e-mail I received about the Kritzerland shows.  So most of the day was spent in telephonic calls and e-mails, but I'll know this morning how it's all going to wash out and hopefully all will be well, which is what would be best and save further drama.  I got about seven hours of sleep, dealt with all that stuff and actually never was able to leave the house at all.  I finally made some Wacky Noodles and made a little too much which, of course, I ate.  I also had to sign all the books and insert the little gift, which, in the case of this book, I think everyone will find interesting.  The helper came by and got all of those then shipped them all out by late afternoon, so they're finally on their way.  And the two corrected test books are on their way to me, so that's good, too.
Then I heard a test track for this musical I'm working on.  The theater cannot afford a live band for a seven week run, so we made the decision to do tracks, but I wanted them to sound really good.  Richard Allen is orchestrating them and producing the tracks – he did the "I want" song (actually an anti-I Want song) and boy did it sound great, just the right sound for the song, so I think this is going to work out really well.  So I sent him another song to do, while I try to finish the opening number – that one is hugely complicated and has to be done in sections and until I figure out how the song weaves in and out of the scene, I can't finish it.  And I hope to finish one of the second act songs today or tomorrow and then can send that, and I'm working on a new one for act one. Doug has finished his first draft and I'm going through it slowly.
I sat on my couch, turned on the Woody Allen movie To Rome, With Love, which I thought I hadn't seen but had (and hated), so happily I closed my eyes and fell asleep for an hour.  Then I listened to some upcoming projects, and that was about it.
Today, I'll be up by ten and will have a telephonic conversation about the Kritzerland show and hopefully that will work out okay. We shall see.  After that, I have to go do an on-camera interview for someone's little documentary about Scent of Mystery and Smell-O-Vision.  I believe I'm the only person in LA who actually saw it when it came out, although I'm told there's one other – but I simply don't believe the guy – he's actually a Kritzerland customer and I believe he may think he saw it but I'm guessing if I quizzed him on it he would not be able to answer some pretty basic questions.  Of course, I'm so senile I booked a lunch with Larry Cohen at the exact same time so I have to call him in the morning and see if he can meet a couple of hours later – I hope so.  That will be my meal, but if he can't, then I'll eat someplace nearer to me.  Then I'll hopefully pick up some packages, then decide if I want to announce our new show title.
Tomorrow I have a little meeting in the early afternoon, and then I have several other things to attend to.  Then I may actually be able to relax.  Not sure what's up for Friday, but Saturday is a birthday dinner and Sunday I know not.
Well, dear readers, I must take the day, I must do the things I do, I must for example, have a telephonic conversation or three, I must do an on-camera interview, perhaps have a later lunch meeting, hopefully pick up packages, then relax.  Today's topic of discussion: It's Ask BK Day, the day in which you get to ask me or any dear reader any old question you like and we get to give any old answer we like.  So, let's have loads of lovely postings, shall we, whilst I hit the road to dreamland, happy to have finally revisited my old favorite On Your Toes album.