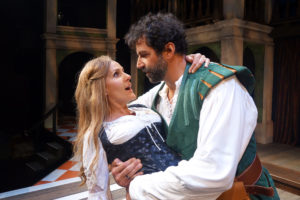 Susannah Rogers and Elijah Alexander (photo by Tania Thompson)
In the program notes for South Coast Repertory's current Shrew!, it is stated that a 2003 survey by the Royal Shakespeare Company found that The Taming of the Shrew was the second most popular play written by William Shakespeare. There have been at least 23 productions of the play on Broadway since 1768 but surprisingly none since 1957. That production starred Nina Foch and a pre-Bonanza Pernell Roberts. The famed duo of Lunt & Fontanne appeared in the leading roles twice while Julia Marlowe and E.H. Sothern appeared in revival after revival in the early years of the 20th century. Then married star couple Elizabeth Taylor and Richard Burton appeared in a 1967 film version. Marc Singer and Fredi Olster appeared in ACT's much lauded comedia del'arte production in 1976 that was eventually filmed for PBS. This reviewer has seen many different takes on the classic over the years, including two productions that set the action in the Wild West and gave Kate a Calamity Jane persona. And of course there is the classic Cole Porter musical version Kiss Me Kate.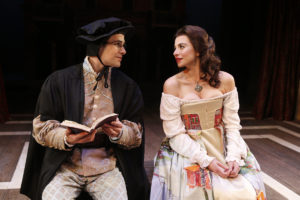 Brett Ryback and Sierra Jolene (photo by Debora Robinson)
Amy Freed has given Shakespeare's play a makeover in her Shrew!, keeping the action set in 1590s Italy but also adding an envelope in which a female contemporary of Shakespeare attempts to write a version that softens his misogyny. The program notes that Freed estimated she only retained a few dozen lines intact from the original but she is so adept at mimicking Shakespearean verse it seems fairly true to The Bard throughout. Director Art Manke keeps the action flowing smoothly on Ralph Funicello's set and the comedy is adeptly handled by a baker's dozen cast members including Danny Scheie, Stephen Caffrey, Mike McShane, Peter Frechette, Jeremy Peter Johnson and Brett Ryback. Sierra Jolene as Bianca flirts up a storm with her trio of suitors. Elijah Alexander as the manly Petruchio and Susannah Rogers as fiery independent Katherine easily carry the show on their very capable shoulders. They spar and court lustily in Verona.

South Coast Repertory, 655 S. Town Center Dr. in Costa Mesa. Ends Apr. 21. www.scr.org