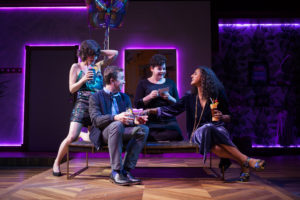 Keilly McQuail, Will Von Vogt, Melanie Field and Vella Lovell (all photos by Chris Whitaker)
"Always the bridesmaid, never the bride." That seems to be the fate of nebbish-y Jordan Berman (Will Von Vogt) in Joshua Harmon's very funny and intuitive play, Significant Other, being given a first-rate production at the Geffen Playhouse. Jordan mournfully watches as his three female BFF's from their college days one by one don their wedding dresses. We follow the quartet through bridal showers, bachelorette parties and weddings as first Kiki (Keilly McQuail), then Vanessa (Vella Lovell) and finally Laura (Melanie Field) find their significant others as they all approach the big 3-0.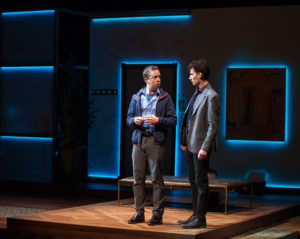 Will Von Vogt and John Garet Stoker
Gay Jordan pines for new co-worker Will (John Garet Stoker, whose first appearance is virtually a wet dream come true), but seems at a loss as to how to approach him. He comes off as whiny and needy most of the time, even with the encouragement of his posse and his fragile grandmother (Concetta Tomei). He wants the same happy ending his friends seem to be getting yet he doesn't know how to obtain it without obsessing over every detail. Jordan seems okay with Kiki and Vanessa's marriages, but Laura's hits him hard. They both thought they would end up together in a platonic but loving relationship, even with kids. Jordan feels like Laura has betrayed him and he lashes out in the play's most bitter and yet touching scene.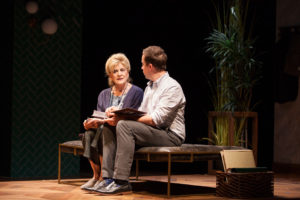 Concetta Tomei and Will Von Vogt
The acting is top notch throughout under Stephen Brackett's sure, steady and non-obtrusive direction. McQuail as Kiki launches the show with a stunningly narcissistic monologue that is as outrageous as it is heartfelt. Lovell is the smart book editor who keeps a perfect balance among her friends. Field is the best BFF you could ever want, and truly surprised that someone other than a gay man wants to be with her. Tomei is a gracious presence and Stoker and Preston Martin each play a trio of men on the periphery of the key foursome. Von Vogt is seldom offstage and he easily holds it at all times. Harmon has created a multi-faceted character and Von Vogt has perfectly inhabited him. Sibyl Wichersheimer's scenic design is a wonder to watch morph effortlessly into various locales. Bobby Frederick Tilley's costumes perfectly outfit these Millennials. Take your significant other to see Significant Other or just take yourself and enjoy a very funny and truly marvelous evening of theatre.
Geffen Playhouse, 10886 Le Conte Ave. in Los Angeles. Ends May 6. www.geffenplayhouse.org