Well, dear readers, it is Friday.  Yes, you heard it here, dear readers, it is Friday. And they say we never impart important information here.  Why I oughta. So, it is Friday and I know this to be true because yesterday was Thursday and it follows that if yesterday was Thursday then today must be Friday.  So it is written, so it shall be done.  As I write these here notes the Kritzerland release of the Rachmaninov second symphony conducted by Stokowski is playing and I must say it is one of my favorite releases and the restoration that Chris Malone did is breathtaking, really. Speaking of Kritzerland releases, it's a thrill to announce our latest CD release, a reissue of something I put out many years ago, but newly mastered and freshened up, sounding amazing – the original Broadway cast recording of The Grass Harp, the musical version of Truman Capote's novel and play of the same name.  The show opened during a newspaper strike and only ran seven performances.  You will not understand that when you hear the score, which is brilliant.  The music is by my late friend Claibe Richardson and the book and lyrics by the talented Kenward Elmslie.  This is the third CD release of this show.  The first was a cheaply done issue that didn't sound very good. My reissue of that was a huge leap forward in quality, audio-wise and Claibe gave me some really fun bonus material to use.  But the packaging of that release, dear Lord, the packaging of that release was horrible. At that point, the person who was the receptionist at the label had begun doing the packaging on certain titles. She was willing but not adept. The cover greens were so dark there was almost no difference between them.  Some of the notes were printed in black against the green and you can't ever see them let alone read them.  The tray card is beyond ugly, there's no cast list, and there is only a synopsis in the booklet and not one word about the show and its history.  I'd met to issue this sooner in memory of Claibe, but then it just got away from me.  But now seemed like a good time.  As mentioned, we've improved the sound even more – the previous mastering was just a little hotter than I like making for a slightly relentless listening experience. Our very own James Nelson has made some adjustments and it now is not wearying on the ears.  And I've written notes and a little personal thing about Claibe, removed the synopsis, which I don't care about, and there's a proper cast list and who sings what.
The cast is amazing – Barbara Cook, Karen Morrow, Carol Brice, Carol Bruce, Max Showalter – just wonderful performances. And that score – one wonderfully tuneful song after another.  Be sure to check out the samples.  Not all the remastered tracks were ready in time to make the samples, so you'll hear the difference – the first two audio samples are the new mastering, while the remaining four are the older, louder master.  I cannot recommend this highly enough.  Doug has fixed the greens on the cover so that they're actually representative of what artist Jimmy Pearsall wanted (Jimmy Pearsall, BTW, did the famous Nudie Musical logo on the Blu-ray and also designed the fantastic poster art for Chinatown).  And we put an alternately colored version on the back of the booklet, just for fun, to see what it would look like with more color.  And the tray card is easy to read and beautifully laid out.  Here's the cover.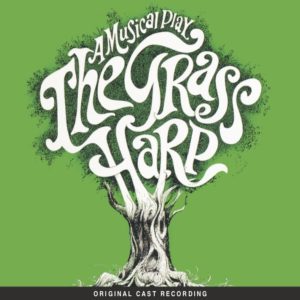 Yesterday I'm just not sure about.  A bit of the old good, bad, and ugly.  Well, no bad, really, just good and ugly.  I was up too early after only about five hours of sleep. Then Richard Allen came and we drove to Factor's Deli for our little meeting regarding the Richard Sherman birthday celebration concert.  I handled it well, I thought, and everyone seems happy with how I'm approaching the structure of the concert.  I've already begun choosing the songs and singers.  I had some matzo brei and Richard had some baked salmon – the other two people didn't eat, which begs the question why did we really need to meet at a restaurant.  Then we drove back to the Valley.  I went to work at the piano, answered e-mails, had telephonic calls, and then the ugly happened, but it was dealt with (having to do with a performer) and it's all okay for now, but eventually in a few months a conversation is going to have to be had.
I got everything ready for the release announcement, sat on my couch for a bit and zoned out, had more telephonic conversations, ate a Freshly dinner that only had 350 calories, and later had some peanuts – not a huge amount.  Then I relaxed.
Today, I need a good night's beauty sleep, then I'll arise, hopefully print out a LOT of orders (have to go buy some paper – completely out right now), hopefully pick up some packages (including the fixed book copies), and then I have a two o'clock meeting at a restaurant – that should last about ninety minutes.  Then I'll come home, relax a bit, then I'm going to an opening night at the Group Rep Theatre to see Deathtrap.  I've only seen the play once (don't like the film version at all), and I loved it, but that cast was pretty great, including lead Brian Bedford.  So, I'm interested to see it again all these years later. They usually have a reception after and sometimes after that we end up at the Coral Café – not sure about that as she of the Evil Eye comes in the morning.
Tomorrow, I have lots to do for the Kritzerland show – three people are cast so far, with three more to go and hopefully a guest star. I have to get the songs chosen. Luckily it's an eclectic show so the world is my oyster, so to speak.  Then there's a birthday dinner.  I'm hoping Sunday will be a ME day, then next week is very busy.
Well, dear readers, I must take the day, I must do the things I do, I must, for example, hopefully print out a LOT of orders, buy paper, hopefully pick up packages, have a late lunch meeting, then attend an opening night.  Today's topic of discussion: It's Friday – what is currently in your CD player and your DVD/Blu and Ray player?  I'll start – CD, lots of upcoming Kritzerland projects.  Blu-ray, no idea.  Your turn. Let's have loads of lovely postings, shall we, whilst I hit the road to dreamland, happy to have announced our new release and having gotten through the ugly of the good and the ugly.