Well, dear readers, I must write these here notes in a hurry for she of the Evil Eye will be here all too soon and I must get some semblance of beauty sleep.  So, let me tell you that I got over eight hours of sleep, which I needed.  Once up, I printed out lots of orders but ran out of paper.  I answered e-mails and did some work at the piano, then I moseyed on over to Staples and bought some paper, after which I went to the mail place and picked up one package – the fixed version of the book, which is fine now – the un-fixed was fine and the difference is subtle, but it's correct now.
Then I moseyed on over to Hugo's for a lunch meeting.  I was a good boy and had only a Caesar salad with a little chicken on it.  The meeting was fun and good and afterwards I came directly home.  I loaded up the printer and printed out the rest of the orders (Grass Harp is doing pretty well, actually), then did more work at the piano, then some on the computer. I approved the rest of the master for Grass Harp and that's on its merry way now.  Just before it went we fixed one last thing that has always bugged me – right at the start of the overture there's a noise in the right speaker – sounds like static but we think it's reed valves, but it's really distracting, so the mastering guy just got rid of it and it's ever so much nicer now.
Then I got ready and moseyed on over to the Group Rep to the opening night of Deathtrap by Mr. Ira Levin.  I first saw the show in Los Angeles at the Huntington Hartford Theatre, with the first national tour cast, which starred Brian Bedford, who gave an absolutely incredible performance.  I took my darling daughter, who was probably nine, and she loved every minute of it.  Also in the cast and such fun to see was Kathleen Freeman, who was hilarious as Helga Ten Dorp.  I was never sold on the third scene of act two, but I understood the symmetry Levin was after.  Also in the cast was Betty Miller, who did a lot of Broadway stuff and a newcomer named David-James Carroll who would, of course, go on to star as the Baron in Grand Hotel.  And it was beautifully directed by Robert Moore.  Here's a photograph of the program.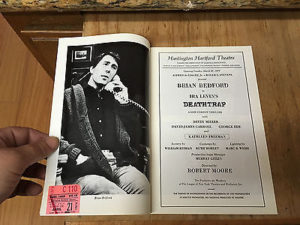 When I became friendly with Ira Levin doing Drat! The Cat! I told him how brilliant I thought Brian Bedford was and as it turned out Brian was his favorite Sidney Bruhl, even though he loved John Wood, too. But Deathtrap is a tricky play to pull off.  I enjoyed seeing the play after all these years and forgot how many references there are to Inspector Hubbard of Dial 'M' for Murder.  Doug Haverty, who played that role in my production at the Group Rep was sitting right in front of me and at the first mention we all turned and looked at him – really funny.
They had a little partay after and then I came home and had a low-calorie Freshly dinner and some not so low calorie pistachio nuts – but I was hungry and that satisfied said hungry.
Today, I'll be up early and then I may drop a book off to Muse Margaret and do some errands, then I'll return and try to finish casting the Kritzerland show, as well as do more work at the piano.  Then I have the birthday dinner at six.
Tomorrow will be a ME day, just because I need a ME day. Hoping some dear readers read the new book and leave Amazon reviews, as I do love reading them.  Then next week is really busy with all manner of stuff.
Well, dear readers, I must take the day, I must do the things I do, I must, for example, get up early, take a book to Muse Margaret, do errands and whatnot, cast, work at the piano, and then attend a birthday dinner at a favorite jernt.  Today's topic of discussion: What are your favorite works of Mr. Ira Levin and which films from his works are your favorites?  Let's have loads of lovely postings, shall we, whilst I hit the road to dreamland, happy to have a subtly corrected book.