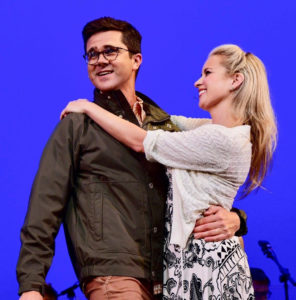 Will Collyer and Ashley Fox Linton (all photos by Alan Weston)
Composer/lyricist Jason Robert Brown has already won two Tony Awards for his scores for 1998's Parade and 2014's The Bridges of Madison County. Both of those were heavy going dealing with the murder of a teenage girl, anti-Semitism, lynching, marital infidelity. Although Brown showed hints of humor in his scores for Songs for a New World, The Last Five Years and 13, most of the songs in those shows trended heavier. Finally in 2015 he burst out his freak flag with the very funny and lively score to Honeymoon in Vegas. It was based on the 1992 film by Andrew Bergman that starred Nicolas Cage as a commitment-phobe New Yorker, Sarah Jessica Parker as his long-suffering girlfriend and James Caan as a love-struck Las Vegas gambler. The show did not catch on and closed after 93 performances. Los Angeles musical theatre lovers finally got a chance to see it for themselves on May 6 as Musical Theatre Guild closed out their 22nd season with a staged concert version. A good time was had by all.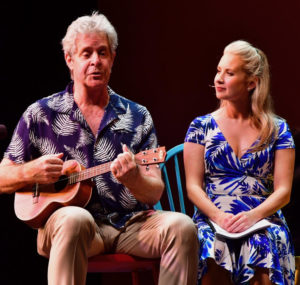 Robert Yacko and Ashley Fox Linton
Bergman adapted his screenplay for the stage and added some fun touches (The Garden of Disappointed Mothers) while Brown created some finger-snapping melodies that perfectly fit the Vegas scene, like lounge singer Buddy Rocky (Bill Ledesma) leading the chorus through the Wayne Newton-ish "When You Say Vegas." Jack (a winning Will Collyer) feels he is under a curse from his deceased (for 10 years) mother Bea (a hilarious Roberta B. Wall) who pleaded on her death bed "Never Get Married." Even though Jack has been dating too-good-to-be-true schoolteacher Betsy (the always delightful Ashley Fox-Linton) and declares "I Love Betsy!" to all of NYC in the opening number, he panics when buying an engagement ring at Tiffany's. He recovers and impulsively asks Betsy to wed him immediately in Vegas before he can change his mind. Once checked into their hotel, the complications start to multiply when consummate gambler and widower Tommy Korman (Robert Yacko) spies Betsy as a dead ringer for his dead wife. Tommy tells the tragic tale of his wife's melanoma in "Out of the Sun," a dead-on black comedy bit of writing by Brown. Tommy invites Jack to a private poker game and soon has him in debt to the tune of $58,000. Tommy is willing to cancel the debt if Jack will let Tommy spend the weekend (sans sex) with Betsy. At first incensed at being used as a poker chip, Betsy is soon winging to a private retreat in Hawaii with Tommy, while Jack tries to catch up. Add in some paid accomplices as tour guides and faux loving family, a horny cab driver (Jennie Kwan performing the outrageous "Friki-Friki"), a group of skydiving Elvis impersonators ("Higher Love") and you still end up with a happy ending. The audience had a happy time following Jack and Betsy's misadventures to the wedding chapel.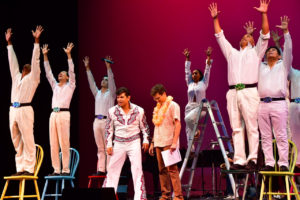 The Flying Elvises
The cast was the tops as always is the case with Musical Theatre Guild's members and guest artists. Jon Lawrence Rivera did a deft job of directing the many scenes and little touches such as black chairs in Vegas (this is just a staged reading after all, no expensive set pieces) and colorful chairs for Hawaii and the five-piece band (under the direction of Anthony Lucca) changing into Hawaiian shirts for the Hawaii set Act Two really gave this production that special feel. Add in the lively and varied choreography by Lee Martino–everything from Vegas showgirl bump-and-grind to graceful hula moves to Elvis hip-thrusting–and everything about Honeymoon in Vegas came up a winner.

2018-2019 season includes Mame in September, Zorba in November, Minnie's Boys in February and Sunday in the Park with George in May. www.musicaltheatreguild.com