Well, dear readers, Kritzerland at Sterling's 87 went beautifully.  The show itself worked like a dream and the performers were all fantastic.  There were lots of laughs in this one, although I felt the patter wasn't working quite as it should – that always depends on how musical theatre savvy the audience is.  But about a third of the way through I did a laugh line that only got chuckles, and I suddenly went off the paper and riffed on that for about two minutes and each riff got louder and louder laughs and then, of course, I made the bit a running gag and that really loosened everything up.  There were many highlights – both Jean Louisa Kelly and Shannon Warne were ON FIRE – just amazing.  Jean doing They Were You, which she sang in the film of The Fantasticks, was so touching, and her Not Getting Married Today brought the house down. Our new fellow had some lyric troubles in the one number he'd had to learn in a very brief time, but he covered it beautifully and I don't think anyone knew.  And I Can Do That was a showstopper – he not only sang, but tapped, and not only tapped, but did a back flip, a first for a Kritzerland show. We're definitely having him back. Daniel Bellusci was stellar on all his songs.  Little Peyton Kirkner did well with my song – not quite as vivacious and vibrant as at the stumble-through, for very specific reasons, but that's a really good performing lesson for her – she still did great and everyone ate her up, but she can learn this tiny lesson and it will make her stronger – and she loves to learn that stuff.  She's got about the best comedy timing of any kid I've ever worked with – she could carry a sitcom.  Don Most was an audience favorite, and Bill Hayes is simply astonishing at ninety-three. They loved him.  And the group that did the opening number did a great job, too.  All in all, a pretty fantabulous evening.  Here is our merry troupe of players.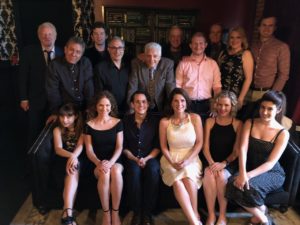 Prior to that, I got eight hours of needed sleep, getting up at noon.  I answered e-mails and relaxed, then shaved.  I had a bad feeling when I shaved, like the water should have been a bit hotter than it was, and then when I showered I knew the earthquake thing had been tripped again.  I barely got enough warm water for a five-minute shower.  Grant came back to town in the early evening, came over, and fixed it.  But they're going to have to have someone come out and look at it, because it shouldn't really trip that easily and it's silly to have to keep resetting it.  At three-thirty, I moseyed on over to The Federal for our sound check.  We had a new sound guy and he did a great job.  The only thing I didn't realize until it was too late was that he pulled the reverb off for the patter, which I don't like – I like the verb up the entire time.  But that was a minor thing.
After the show some of us went to Little Toni's. I had a salad and penne with mushrooms, romano, and not very much butter, I must say – it wasn't great and I didn't finish it.  Then I came home.
Today, I'm hoping to get another good night's beauty sleep, then I have to start planning the June show, and get back to writing the final four or five numbers for the new musical.  I'll eat, hopefully pick up packages, and try to have some time to myself, as well.
The rest of the week is meetings and meals, speaking to some high school kids tomorrow, but mostly writing away.
Well, dear readers, I must take the day, I must do the things I do, I must, for example, plan the June show, write, eat, hopefully pick up packages, and relax.  Today's topic of discussion: Who are your favorite unsung musical theatre composers, old and new, ones that you like who may not get the attention they deserve.  Let's have loads of lovely postings, shall we, whilst I hit the road to dreamland, happy that Kritzerland at Sterling's 87 was a great and fun show.