Well, dear readers, it seems to be midnight at the oasis and therefore these here notes are tardy.  I hate when that happens, but I keep ending up having telephonic conversations and I lose all track of time and, conversely, time loses all track of me, which is, of course, a double whammy, losing track of time-wise. As I type these here notes I'm listening to a piece of Mahler's, his mighty second symphony, "Resurrection."  I had a CD of it that I thought sounded pretty good, a Japanese import from Japan.  But this Blu-Spec CD puts that to shame.  This one sounds open and clear while comparatively the other one now sounds muddy and indistinct.  I'll say one thing, these Blu-Spec CDs are so great to hear that they actually occasionally expose the deficiencies of the actual recording – that happens a couple of times in this fantastic performance by Bruno Walter, one of my favorite Mahler seconds.  I wish there were more of these classic Blu-Spec CDs – Sony seemed to be on a roll doing them several years ago, but they must not have sold well because there haven't really been any new ones that I've seen.  Speaking of resurrection, perhaps I should resurrect the damn notes.
Yesterday wasn't so bad. I got about seven-and-a-half hours of sleep, got up, answered e-mails, and did some work on the computer. I also spent quite some time organizing the invoices for the helper, as we're shipping out Dames At Sea and The Decline and Fall of the Entire World as Seen Through the Eyes of Cole Porter today. Then I worked at the piano for a while, smoothing out a few musical things here and there as well as there and here.  Then I girded my loins and did a three-mile jog, not so easy.  Once home, I had a long telephonic conversation, printed out some orders that had come in, had more telephonic conversations, heard the new track and made a couple of fixes to it, so he only has one more to do of what he had, and then he'll get six or seven more from me on Thursday.
Then I got ready and moseyed on over to Spumonte, a wonderful and authentic Eyetalian jernt in North Hollywood.  I've been several times and it's always been great and I always have the same thing – Penne Spumonte, penne with sausage and red onion in a good marina sauce.  I came close to having some linguine with salmon in a light vodka sauce, but I knew there was cream in that, and while they do it VERY lightly if you ask, I just didn't want those extra calories.  I began with their Caesar salad, which is great, then had the penne, which was also great.  Kay had a Caesar and some calamari, a huge appetizer, which she took most of home. We chatted about her upcoming New York show at 54 Below.  If I do end up coming in, we'll simply have to have a little haineshisway.com get-together. Hard to believe I haven't been there for three years.  But we'll have to see how things are closer to August.  We were there about ninety minutes, then I came right home and sat on my couch like so much fish.
Last night, I watched another movie that starred John Hawkes, to in a row.  Since he hasn't done all that many movies, I found that interesting.  This one was called Too Late.  It's one of these out of chronology things in five parts.  So, the director, whose first film this is, is a real film geek who clearly idolizes Mr. Tarantino, Christopher Nolan, and tons of other filmmakers.  There's not an original thought or idea in this film – it's all show-off stuff – every one of the five sequences is shot in one take.  He insisted on shooting actual film and not only actual film but shooting in Techniscope, a process no one has used for years, most often used in the spaghetti westerns of the 1960s – that probably comes from Tarantino, too – these guys are all like that.  Add a little Robert Altman into the mix, too.  Interestingly, this film, like Hawkes' Small Town Crime, which I watched the night before, also co-stars Robert Forrester.  And more interestingly, one of the characters' last name is Mahler.  Anyway, it was okay but just a cineastes' project through and through.  And of course that works with some of the idiot young critics, who proclaimed it a MASTERPIECE.  Most critics really weren't having any of it.
After that, the helper came by and got the invoices, Grant stopped by for but a moment, and I never got around to starting the commentary so I must do all of that today.
Today, I must write all of the commentary come hell or high or low water.  I must get that out of the damn way.  In addition to that, I'll do the jog, I'll eat, I'll hopefully pick up some packages, and I'm quite sure all of that will take up most of the day.  Here is the flyer for the Kritzerland show.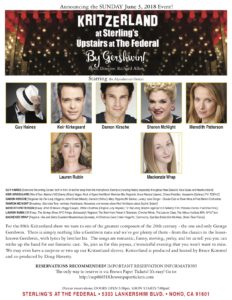 Tomorrow I have a work session that will last a little longer than usual as he'll be filming my hands playing the rest of the songs for the new musical.  Then it's just more of the same for the rest of the week and the weekend.
Well, dear readers, I must take the day, I must do the things I do, I must, for example, write and complete the commentary for the upcoming Kritzerland show, I must jog, hopefully pick up some packages, eat, and do whatever else needs doing.  Today's topic of discussion: It's Ask BK Day, the day in which you get to ask me or any dear reader any old question you like and we get to give any old answer we like.  So, let's have loads of lovely questions and loads of lovely answers and loads of lovely postings, shall we, whilst I hit the road to dreamland, happy to have finished these here notes way past midnight at the oasis.