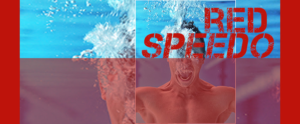 Playwright Lucas Hnath made news in April, 2017 when his play A Doll's House, Part II premiered locally at South Coast Repertory while also being staged on Broadway by a different director and with a different cast. I really enjoyed Hnath's wordplay among the four characters, originally created by Henrik Ibsen, picking them up 15 years after the momentous conclusion of the original play. Now The Road Theatre Company is presenting the Southern California Premiere of Red Speedo, an earlier four-character play by Hnath. The setting is the eve of the Olympic swimming trials and the setting is the natatorium of a failing swim club.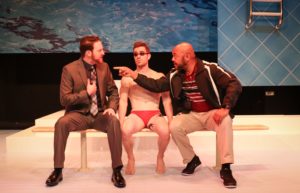 Coronado Romero, Adam Peltier and Jason E. Kelley (all photos by Brian M. Cole)
Ray (Adam Peltier) is a very talented swimmer who in the past has outraced Michael Phelps and Ryan Lochte and seems to be a sure lock on making the current Olympic team. His lawyer/manager/brother Peter (Coronado Romero) is sure he is a cinch. He has Speedo USA ready to sign Ray to an endorsement contract the second he qualifies for the Olympics. His Coach (Jason E. Kelley) is also sure all his training is going pay off big and save his financially floundering business. Ray is the only one with doubts because Coach discovered his stash of performance enhancing drugs in the lunch room refrigerator and locked them out of reach. Ray puts the blame on another swimmer but he is really jonesing for another dose before he swims.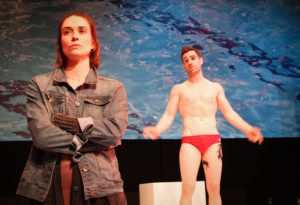 Kimberly Alexander and Adam Peltier
Denied the drugs he had already purchased and finding out his dealer is in jail, Ray appeals to his ex-girlfriend Lydia (Kimberly Alexander), a former sports therapist who started Ray on the PEDs originally. She's not in a very helpful mood since she had been arrested and lost her license for purchasing banned drugs for another client. She blames Ray since he knew his lawyer brother provided info to the prosecutor in Lydia's case but did not say anything, resulting in Lydia's conviction. As an ex-con, she has been having trouble finding any kind of work and is planning on leaving the country. Ray sweet talks his way back into Lydia's arms and ends up setting a World Record in his swim match the next day. Then the merde really hits the fan when first Peter then Coach learns about Ray's drug use. But in this Trumpian World, everyone is out for what is best for them, no matter the consequences to others. They all make a deal with the Devil and are willing to pay the price.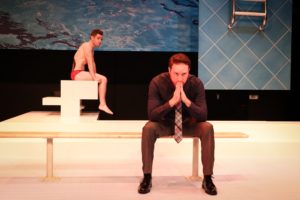 Adam Peltier and Coronado Romero
Director Joe Banno's direction never eases up through the 90-minute intermission-less play which contains multiple scenes. The action never flags and the right-on dialogue flows easily from Banno's talented quartet of actors. Peltier is only off stage for a minute or so and never out of his red speedo, which he really rocks, along with that marvelous sea serpent tattoo (by Chris Trovador) which covers his back and extends down his left thigh. Ray is not the brightest bulb in the chandelier but his dumb act has a manipulative subtext to it. Romero as older brother Peter is a sly, devious lawyer who is desperate to get out of law and into sports management. These two play off each other well, whether in tandem for their ultimate goals or as surly opponents. Alexander nails her solo scene as a very injured, conflicted and somewhat vindictive Lydia. Kelley provides strong support as Coach. Stephen Gifford's scenic design makes you want to dip your toes in the on-stage pool and Derrick McDaniel's lighting design gives the effect of a fluid body of water. The totally unexpected and very violent final five minutes are bloody and intense (although fight director Bjorn Johnson's action isn't always convincing in the close-up confines of the small theatre) and make for an unsatisfactory ending. Until then, Red Speedo was swimming straight for the gold.

Road Theatre on Magnolia, 10747 Magnolia Blvd. in North Hollywood. Ends July 1. www.roadtheatre.org