Well, dear readers, I am currently a bit sleep deprived due to being deprived of sleep.  I've been getting between five and six hours of sleep this week and it is catching up with me.  It hates to catch up with me – very jealous that it is.  In any case, I am sleep deprived and it's making me depraved. Yes, I'm depraved on a account of I'm deprived.  What am I, West Side Story all of sudden?
Yesterday, I thought I heard the doorbell ring at nine in the morning (after not falling asleep until four), but it was all in my deprived mind because there was no one at the door.  So I went back to sleep until almost noon, but was up twice during that time.  Once up, I had to quickly answer some e-mails, then I went and had some chicken tenders and a side Caesar salad, after which I picked up some packages. Then I came home.
I did some work on the computer, then at the piano, then at the piano, then on the computer.  I spent a solid hour trying to record the latest song from a few days ago – I could not seem to sing and play at the same time, even thought the accompaniment is pretty simple.  One botched version after another.  Sometimes I'd almost get to the end and then screw something up, but finally I got a decent recording and sent it to the two people who needed it.  Then I got ready for our second Kritzerland rehearsal.  It went very well – a few people still need to get their lyrics down, but it's such a fun show.  And we were joined by Bill Hayes, ninety-three years young and when I say young, this guy is unbelievable.  His energy is infectious, he's so together and quick-witted – it's just amazing, really. He's singing The Look of Love, which he sang several times on Days Of Our Lives, so that's fun.  And then we were joined by Don Most (formerly Donny Most) who's doing two songs – Almost Like Being in Love and I Can't Get Started. What a treat it is to not only have him in the show, but for our little reunion – I did two Happy Days episodes the first season.  He sounds and looks swell.
Then came the six-person group and they were pretty secure on the song, so we ran it about six times, and then I began to give direction and clean up the sloppy bits.  They're all great and I think it's going to be a really good opening number, plus I get to set it up in a funny way.  That took almost until eight o'clock.  Everyone went on their merry way, and I did a little work at the piano, just playing with two little ideas for the sequence I have to tackle next. Then I had a couple of long telephonic conversations, and then I prepped our new release announcement.  It's a soundtrack this week, by one of my favorite film composers, Mr. George Duning – The Man With Bogart's Face.  It's a fun score – mono composer tape with those limitations, but I'll do just about anything by Duning.  Here's the cover.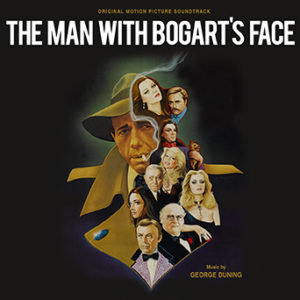 Today, I have a few things to do in the morning/early afternoon, then I'm getting a haircut at two.  Hopefully I'll pick up some packages, then I'll eat something not too heavy, and then I'll hopefully print out a LOT of orders, then the rest of the day and evening will be a ME thing.
Tomorrow, she of the Evil Eye comes, so I'll do stuff until she's done, then we have our stumble-through, after which I'll be supping. I'll have to set up a LOT of chairs for this one due to the group of six in addition to our seven cast members. After dinner, I'll just relax. Sunday, I'll relax until it's time to mosey on over to The Federal for sound check and then we do our show.  I'm sure some of us will go out for a bite afterwards.  Then next week I start figuring out the June show as well as trying to finish the rest of the score I'm working on.
Well, dear readers, I must take the day, I must do the things I do, I must, for example, do a few things, have a haircut, hopefully pick up packages, eat, hopefully print out a LOT of orders, and then relax.  Today's topic of discussion: It's Friday – what is currently in your CD player and your DVD/Blu and Ray player?  I'll start – CD, lots of upcoming projects.  Blu and Ray, more Outer Limits.  Your turn.  Let's have loads of lovely postings, shall we, whilst I hit the road to dreamland, hoping that I will catch up on sleep so I'm not sleep deprived.