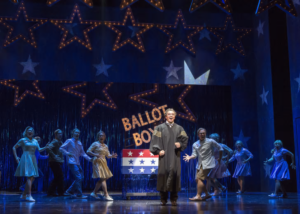 "Election Night" (all photos by Craig Schwartz Photography)
American musical theatre and politics would seem to make strange bedfellows. However, since Of Thee I Sing won the Pulitzer Prize for Drama in 1932. there have been many other successful and not-so-successful musicals mingling politics with song and dance. Fiorello! also won the Pulitzer in 1960 as did Hamilton in 2016. Other entries in the rare genre have been Hair, 1776, Pacific Overtures, Evita, Assassins and Allegiance. Now we can add the strange hybrid that is Soft Power, receiving its World Premiere at the Ahmanson Theatre, presented by the Center Theatre Group. Self-described as "A Play with a Musical," it features a play and lyrics by David Henry Hwang with music and additional lyrics by Jeanine Tesori.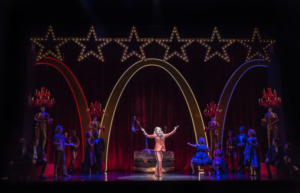 "I'm With Her"
Playwright Hwang weaves some elements of his own life into the play in the character of Chinese-American writer David Henry Hwong (Francis Jue). Hwang/Hwong is a rare breed, one of the few successful and well known Chinese-American playwrights/screenwriters. Newly arrived from China, Xue Xing (Conrad Ricamora) is in charge of running the Chinese Dragon Media in Hollywood. He and Hwong are working on a Sex and the City style sitcom based in Shanghai but Hwong is running into difficulties with China's insistence that its image remains perfect to the world. At a 2016 fundraiser meet-and-greet with candidate Hillary Clinton, Xue is fascinated by the American political system. Shortly after the devastating 2016 election results, Hwong is stabbed in the neck by an unknown assailant, just as Hwang was in 2015. Because of a severed artery, Hwong faints and nearly dies in the emergency room. His resulting fever dream is a musical co-opted by Chinese writers that mixes up the facts with fantasies. China is the dominant world power by the early 22nd century (where a panel discusses the world famous musical) and their superior attitude about everything is sort of like the 20th century USA.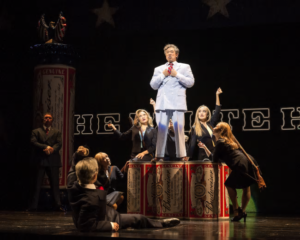 "Good Guy with a Gun"
I am not sure what kind of a future awaits this creation—there is so much that is relevant to the here and now and the most recent past that I'm not sure it will hold up in ten or even five years. But it is an enjoyable piece of thinking man's fluff as is. Good political satire is very difficult to pull off and usually has a very quick sell by date. Leigh Silverman has directed with energy and the cast of 14 are plucky and lively. Jue has fun channeling Hwang while Ricamora grounds the show in a believable reality. Alyse Alan Louis has the star-making role of Hillary and she doesn't waste a moment of her performance. She possesses a strong singing voice, a winning personality and 100 watt stage presence. The chorus plays multiple roles and tightly executes Sam Pinkleton's choreography.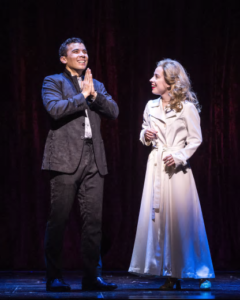 Conrad Ricamora and Alyse Alan Louis
Tesori has provided a rich Rodgers and Hammerstein styled score for the songs and when was the last time you saw a show that contained show-stopping tunes about the Electoral College, AK417s and Democracy with a capital D? The house lights are bumped up for the finale, a rousing reprise of "Democracy" which could easily serve as a campaign theme song for just about any upcoming election. Soft Power is a strange creation that will mystify some and entertain others. It's nice to know that political satire can be given a major canvas on which to create some thought-provoking and entertaining ideas.

Ahmanson Theatre, 135 N. Grand Ave. in Los Angeles. Ends June 10. www.centertheatregroup.org