Well, dear readers, I had quite a bit of fun yesterday speaking at Van Nuys High School to a whole lot of performing arts students – not just actors and singers, but dancers, writers, and directors, both film and theatre.  The event was put together by two students.  I was first up because, I suppose, I've actually done all of the things in the list above (well, I've danced but, you know, not really – as I told the kids, "I think I'm responsible for the death of at least two choreographers trying to teach me steps" – joking, of course).  I began with a little BK history, but mostly talked about always having positivity and that one always has a choice about which road to take – negative or positive, and that the negative road is the road to nowhere. I talked about passion, commitment, discipline, attitude – I guess I yakked for about twenty minutes and then we had ten or so minutes with questions – some really good questions. I tried to keep it light and funny, too. Then there was the wife and daughter of A Chorus Line's Ron Kuhlman – they were charming.  A stage management teacher from the school spoke, as did a nice chap who's been an actor and screenwriter and now teaches there.  At one point, I talked about Nudie Musical without actually saying the title.  The screenwriting guy leaned over to me and said he'd seen the film in New York when he was thirteen – must have snuck in.  Funny.  Anyway, I always enjoy these kinds of things and hopefully someone got something out of it.
After the talk, Leslie Young and daughters (they go there) and I went to the Hamburger Hamlet, where I had a hamburger and recited Hamlet.  I had my usual bacon cheeseburger, which, I must say, wasn't that great.  I had a side salad with it, and then my beloved Egg Custard Lulu, which was great.
Prior to that, I was up at eight-thirty to shave and shower, as I knew the gas was going to be shut off at ten.  That guy came, moved the earthquake thing to a place where it wouldn't go off unless there was, you know, an actual earthquake, and I answered e-mails, but spent most of the time before leaving going over the chart and track for the opening number.  We finally got it right and it sounds really great.  It's so easy to make adjustments working this way, because I hear everything so I know if something is not working or needs futzing with. Before going to the school, I picked up the third try at getting GEE perfect, and this seems to be the third time's the charm because everything looks as it should now.  Then I did the thing, ate, and then came home.
I had many e-mails to answer, I did some work on a song, and then I finally sat on my couch like so much fish.
Last night, I watched another episode of The Outer Limits – The Bellero Shield – it was pretty good – good direction by John Brahm and a very good performance by Sally Kellerman.  I dozed off for a bit, as I'd only gotten about five hours of sleep.
I also prepped our new release, which is the first-time on CD release of the TV soundtrack to Dames At Sea – starring Ann-Margret, Ann Miller, Harvey Evans, Anne Meara, and Fred Gwynne.  It's a lot of fun.  Also included on the CD is the TV special I'm A Fan, a sports musical revue, which starred Dick Van Dyke, Carol Channing, Donna McKechnie and many others.  While no soundtrack for it exists, there was a really nice demo recording by the composer, LeRoy Holmes, with singers and soloists.  The lyrics are by the wonderful Carolyn Leigh.  Here's the cover.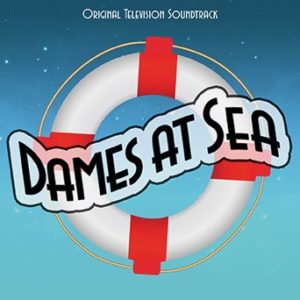 Today, I will hopefully arise after a good night's beauty sleep.  I'll hopefully print out a LOT of orders, I'll work on the Kritzerland show (so far no casting luck), work at the piano and on the computer, eat, hopefully pick up packages, and then, at some point, relax.
The rest of the week and weekend is meetings and meals, seeing a new musical at the Ahmanson, and stuff like that there.
Well, dear readers, I must take the day, I must do the things I do, I must, for example, hopefully print out a LOT of orders, I must work on the Kritzerland show, I must write, eat, hopefully pick up packages, and relax.  Today's topic of discussion: It's Ask BK Day, the day in which you get to ask me or any dear reader any old question you like and we get to give any old answer we like. So, let's have loads of lovely questions and loads of lovely answers and loads of lovely postings, shall we, whilst I hit the road to dreamland, happy to have spoken to some arts students.