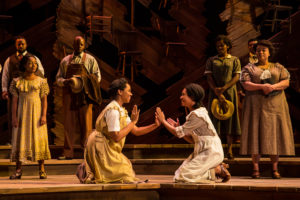 Adrianna Hicks and N'Jameh Carmara (all photos by Matthew Murray)
The Color Purple began as a Pulitzer Prize winning 1983 novel by Alice Walker. The 1985 Steven Spielberg film adaptation received critical and audience acclaim although this viewer found it overly saccharine (too much patty-cake in the cornfields, too many shots of shadows on the walls). In 2005 it was adapted to the stage as a musical by playwright Marsha Norman and composers Brenda Russell, Allee Willis and Stephen Bray in a version truer to the violence against Black women by Black men and homosexuality depicted in the novel. In 2013 minimalist stage director John Doyle revived the musical for London's Menier Chocolate Factory Theatre. It moved to Broadway in 2015 and is now playing the Hollywood Pantages Theatre as part of its National Tour.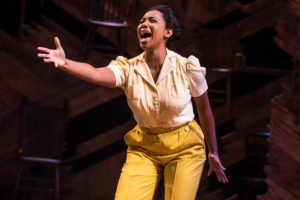 Adrianna Hicks
It's a powerful story of one woman's struggle to overcome poverty and constant abuse, first by her stepfather then by her husband, to find love in the arms of another woman and finally to become an assertive, independent businesswoman. It's a powerful tale in this era of MeToo and Black Lives Matter and the females in the opening night audience really responded to the message of empowerment.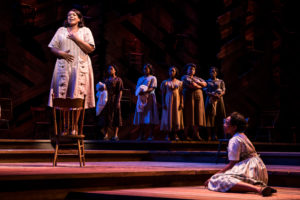 Carrie Compere and Adrianna Hicks
The show features a cast of 17, all displaying strong voices. Adrianna Hicks proves to possess a powerhouse voice and she brings down the house with her stirring anthem "I'm Here". She is rarely off stage and runs the gamut of emotions.. Carrie Compere is a crowd pleaser as the "Hell No!" Sofia whose message of standing up for herself finally starts to arouse Celie.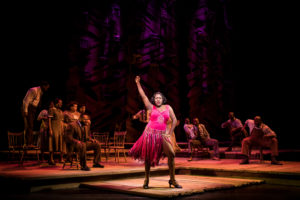 Carla R. Stewart
It takes sexy blues singer Shug Avery, the long-time mistress of Celie's husband, to awaken the passion lying dormant beneath Celie's quiet demeanor. Carla R. Stewart inhabits the role with a hot sexuality and a commanding stage presence. This terrific trio makes the show well worth seeing. N'Jameh Camara plays Celie's younger sister Nettie from whom she is separated for over 30 years due to the cruelty of the men in their lives.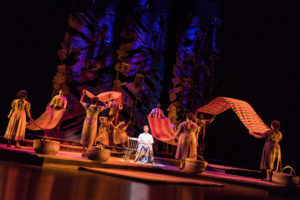 A wall of chairs
Doyle's stripped down to the basics production has the look and feel of a staged concert, along the line of an Encores outing, not a bona fide Broadway musical outing. There is little shown to reflect that the story unfolds over a 40 year period. Ann Hould-Ward's ostumes remain much the same throughout until Celie goes into business late in the second act with "Miss Celie's Pants". Doyle also designed the set and it is a series of platforms backed by a tall, wooden wall with dozens of chairs hanging from it. Some of the chairs are removed from the wall at times and used as props as well as seats. (The chair-centric scenery is reminiscent of the long running (nearly 22 years) Broadway revival of Chicago which started life as an Encores show. The nine-piece pit orchestra makes the music sound larger but Dan Moses Schreier's sound design was mostly muffled on opening night. It was difficult to hear and understand most of the sparse dialogue as well as at times the lyrics. If you have never seen a production of The Color Purple The Musical you might want to check it out for the great singing on display. If you have seen it, you might be better off just revisiting your memories.


Hollywood Pantages Theatre, 6233 Hollywood Blvd. in Hollywood. Ends June 17. www.hollywoodpantages.com