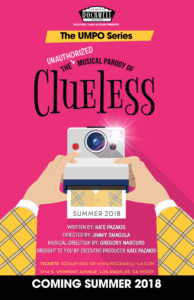 Screenwriter/director Amy Heckerling successfully transferred Jane Austin's early 19th century novel Emma into late 20th century Beverly Hills in her 1995 film Clueless, which was a sleeper hit, remains a cult favorite and made a star of Alicia Silverstone. Now writer/executive producer Kate Pazakis and director Jimmy Smagula have successfully adapted and updated the screenplay and brought it to the stage at Rockwell Table and Stage as the latest offering in their UMPO Series. Unlike leading lady Cher, a virgin who can't drive, this reviewer had his cherry popped by seeing his first Unauthorized Musical Parody (a staple at Rockwell the past few years). And he liked it, he really liked it. "As if" anyone could not. There is so much energy and infectious joy generated by the very talented cast of eight you can't help but smile throughout, whether you've seen the movie, forgotten most of the movie, or if you mouth the dialogue and sing-a-long to the more than two dozen pop songs featured in the 90 hilarious and quickly paced minutes. And there are costume changes aplenty thanks to designer Chadd McMillan.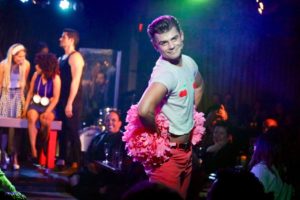 Garrett Clayton as Christian (photo by Bryan Carpender)
The show is double cast so you may see performers other than those mentioned in this review but I'm sure they are as equal to the task as the ones I viewed. Cher (Anna Grace Barlow) is the most popular girl at Beverly Hills High, usually at odds with nearly as popular Amber (quick change artist Lesley McKinnell). Dionne (Domonique Patton) is her best friend and together they decide to give new girl Tai (Nohely Quiroz) a makeover. After her successful matchmaking effort with her teachers Miss Geist (McKinnell) and Mr. Hall (Lucas Coleman), Cher decides to pair up Tai with eligible stud Elton (Coleman) since Tai has unfortunately developed a crush on slacker skateboarder and 25-year old high school senior Travis (Garrett Clayton). In a gender switch, Dionne is in a fractious relationship with Murray (Courtney Bruce channeling the young Whoopi Goldberg). Cher picks pom-pom shaker and flashy dresser Christian (Clayton) to punch her V-card, not having a clue that he's the gayest boy in town. Cher is also clueless about her real attraction to her ex-stepbrother Josh (Matthew Bohrer) until the happy ending. Getting there is all the fun. This talented octet knows how to play to and interact with a live audience and really deliver the laughs. And they all possess strong singing voices to belt out the mostly rock score that contains everything from "We Didn't Start the Fire" to "I'm Too Sexy" to "We Are the Champions." The four-piece on-stage band really rocks the room.

Rockwell Table and Stage, 1714 N. Vermont Ave. in Los Angeles. Ends Sept. 1. www.rockwell-la.com.