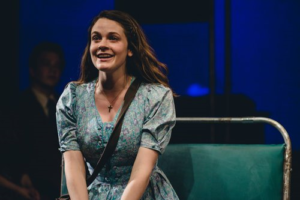 Claire Adams (all photos by Matthew Gilmore)
Violet (Claire Adams) is a young woman desperate to be healed. An accident at age 13 has left her with a hideous facial scar down one side of her face. The blade flew off the handle of her father's axe striking her in the face. He ran down the mountainside of their small town with her in his arms to the nearest doctor, but time and limited funds could not heal the wound. Ten years later in 1964, after the death of her father, Violet finds hope in the miracle healings she has seen on TV. Finally having saved enough money for a bus ticket from Spruce Pine, North Carolina to Tulsa, Oklahoma, Violet sets out for the healing her faith promises her at the end of her journey. Oftentimes the journey is more important that the destination. So it is in Violet, a chamber musical with music by Jeanine Tesori with book and lyrics by Brian Crawley based on Doris Betts's story The Ugliest Pilgrim. Violet has been given a loving, spirited and moving production at Actors Co-Op.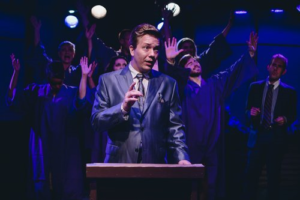 Kevin Shewey
Director Richard Israel and scenic designer Nicholas Acciani have artfully turned the intimate Crossley Theatre into a greyhound bus thereby making the audience feel they are part of Violet's life-changing journey. It's a remarkable ride under the deft hand of director Israel who has perhaps assembled the strongest cast of singer/actors this reviewer has ever seen at Actors Co-Op, led by Adams in a heart-breaking and uplifting performance in the title role.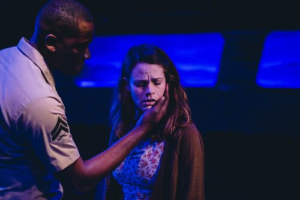 Jahmaul Bakare and Claire Adams
Violet has been scarred, not only by her father's axe, but by the reactions of most of the inhabitants of her small town. As she is forced to confront the outside world and interact with her fellow travellers, she slowly heals her inner scars. It's a lovely tale and Tesori has provided a varied score of bluegrass, blues, gospel and honky-tonk. The six-piece orchestra, led by conductor/musical director Taylor Stephenson, fills the theatre with the glorious score.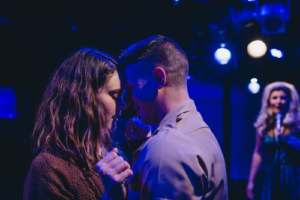 Claire Adams, Morgan West, Lauren Thompson
Adams is given great support by Jahmaul Bakare as Flick, a black soldier and Morgan West as Monty, a white soldier. Both men flirt with Violet and vie for her attention during their time together on and off the bus. Bakare especially has a big, booming voice making his solo "Let It Sing" and his duet with Adams, "Hard to Say Goodbye" the show's musical highpoints. Lily Zager is a wonder to watch and hear as young Violet in flashback scenes with her father (John Allsopp) and in her daydreams with the Preacher (Kevin Shewey). Benai Boyd lets her voice soar to the rafters in the big, rousing gospel number, "Raise Me Up." Your spirits will be raised up when you experience Violet. Don't miss it!
Actors Co-Op, 1760 N. Gower St. in Hollywood. Ends June 30. www.actorsco-op.org.