Well, dear readers, the AMPAS tribute to the Sherman Brothers was an evening to remember in many ways, mostly for the truly heartfelt tributes to the extraordinary songwriting team.  Sami and I arrived at six-fifteen and got in the "good" line, the VIP line.  We got in without any issues and saw so many wonderful folks we both knew at the pre-reception.  That lasted about forty minutes and they then began blinking the lights to let us know we could go find our seats, which were in a VIP roped-off section down front. So, because Sami and I had both grown weary of walking around and schmoozing – she, like me, is not a party schmoozer – and because there was a great big walking ball of negativity in the room, which I may or may not choose to talk about one of these fine days, we went and got our seats.  We were exactly where I like to be, perfect seats really.  It took forever to herd everyone in and get them seated and it seemed like they oversold a bit.  Then Richard and Elizabeth were led down the aisle but I knew they were trying to get him in his seat as quickly as possible, so I made no attempt to go say hello, unlike others who did.  And Hayley Mills and sister Juliet were seated close to him.  Again, I'm not really into working the room like that, so I stayed put.
The show began about ten minutes late and went straight through with no break at two-and-a-half hours.  I don't think anyone thought it would run that long, but there were ten people singing (I would have had a few less than that) and lots of interesting folks speaking.  Speakers included Hayley (who also sang), Pete Docter and some other Pixar fellows, composers John Debney and Michael Giacchino, Gregg and Jeffrey Sherman, the sons of Richard and Robert, host John Stamos and others I'm too tired to remember.  The singers were certainly a mixed bag, but the highlights were Kenny Loggins, Leann Rimes, Hayley (who was adorable), and the amazing and irrepressible Dick Van Dyke. Some of the other singers I knew, but most I didn't.  Richard Allen led his trio – Tim Emmons on bass (he did Levi), Grant on guitar, and Richard on piano.  For me, the most successful parts of the evening were the speakers, the singers I mentioned, and the great clips – I would have liked more of those because they were just so much fun.  The audience stood many times during the evening, and leapt to their feet when Richard was finally brought on at the end.  Then there was a Kritzerland-like sing-a-long to Let's Go Fly a Kite but it didn't work as well as it should because it was tied to the movie clip, where the song starts and stops several times.  But then Richard played and sang Supercalifragilistic and all was well in the world.  Because all the speakers and performers and band and others were already jammed onstage, I could see that trying to get to Richard was going to be insanity.  Plus they had a barricade of security people precluding any audience members from getting up to the stage.
So, Sami and I went and we used our respective rest rooms.  We were about to leave when I decided we should at least make an attempt to wave at Richard or something, and I felt if I could find his son Gregg, with whom I'm working on our event, or Richard Allen I might have a shot at getting onstage. I did catch Gregg's eye and he came over to me but a security person sternly told him he wasn't letting me up there, taking Gregg a little aback.  But just at that moment, Richard S. turned and saw me and came right over and hugged me and said to the security person, "Let him up."  So, Sami and I spent some time with him, I hugged Elizabeth, chatted with Richard Allen, and best of all chatted with Hayley, who really is the sweetest person – and I met Juliet, who I hadn't met before.  So, I'm glad I hung around.  Then I drove us home, Sami drove home and I had to go get something to eat, as I'd only had a handful of potato chips during the day. Here's Sami and I onstage after the show.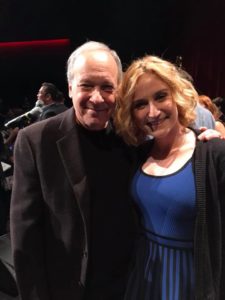 We'd checked the hours of Taco Bell and it was open until four in the morning, so that's where I went.  Only the doors apparently lock at eleven and you have to drive through, which I was not about to do.  So, better yet I went over to In 'n' Out where there were the usual line of cars.  But I went inside and it wasn't too bad and ten minutes later I had two burgers and fries heading home with me.  Once here I wolfed them down, whilst making sure the new release pages were working, which they were.  We then got those live and I sent out the eBlast and posted on Facebook, after which I began writing these here notes.
The new release is a two new CDs – the first is Leonard Bernstein Revisited, a really good entry in the series with a stellar cast – it was perhaps the only Bagley CD that didn't have extras added to it for its first CD release, but because it was a fairly short CD I added three fun bonus tracks.  Sound, of course, has been spruced up considerably.  The second release is very special – Lenox Avenue – The Music of William Grant Still, another in our classical series.  I issued some of this CDs contents on a Bay Cities CD back in 1991, but the main piece, Lenox Avenue, a brilliant piece for narrator, chorus, and orchestra, was from an acetate of a radio broadcast and while we made a valiant attempt at helping it, it simply wasn't possible back then.  But our ace restoration person, Chris Malone, did his usual hocus-pocus and magic on it and I could not believe the result.  It's archival, but now it's so much better. Then we found a version of Lenox Avenue without narration, just the orchestra and chorus and that's really fun and was also taken from a radio broadcast made a year prior to the narrator version and conducted by Still himself.  They're both great.  Also, the narrator is the fantastic actor Juano Hernandez.  The rest of the CD are violin pieces played by the great Louis Kaufman – sometimes with just piano, sometimes with string quartet, and best of all with symphony orchestra in a great Suite for Violin and Orchestra written by Still especially for Kaufman.  Still was and is one of THE most important African-American composers in history and his was an amazing success story.  I cannot recommend this highly enough.  Here are the two covers.
Prior to all that, I'd gotten only about five hours of sleep, got up and did things, but then went back to bed at eleven and slept until one – so about seven hours of sleep.  Then I picked up some packages, but I just wasn't in the mood to eat so I had my handful of potato chips.  I listened to some music, then got ready and the rest you know.
Today, I need kind of a ME day, but I also now have to get us all on track for the Sherman event we're doing in July.  I'm still casting and choosing songs, but it's coming along nicely.  I also have to get singers their Kritzerland show music, which means I have to find several charts in the garage.  I'll hopefully pick up some packages, eat, and then just try to relax and watch something.
Tomorrow and the weekend is unknown to me, other than writing commentary and doing a show order and then we have our Kritzerland rehearsal week.
Well, dear readers, I must take the day, I must do the things I do, I must, for example, have a partial ME day, get singers their music, hopefully pick up packages, eat, and relax.  Today's topic of discussion: What was the first Sherman Brothers song you ever heard, and what are your favorite Sherman Brothers memories?  Let's have loads of lovely postings, shall we, whilst I hit the road to dreamland, happy to have had a lovely night at the Academy's tribute to the Sherman Brothers.