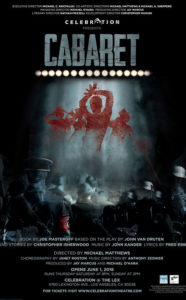 Christopher Isherwood's 1945 novel Berlin Stories was turned into a Broadway play called I Am A Camera in 1951 and later filmed, both starring a young Julie Harris as the desperate to be decadent cabaret performer Sally Bowles in 1930s Berlin. Playwright Joseph Masterhoff and the composing team of Kander & Ebb turned it into a Tony Award winning musical entitled Cabaret in 1966. Bob Fosse won an Oscar for directing the classic 1972 film version which also won Oscars for Liza Minnelli's Sally and Joel Grey's Emcee along with wins in five other categories. A 1998 Broadway revival incorporated some other Kander & Ebb songs used in the film while jettisoning a few of the original tunes. This version, which originated at London's Donmar Warehouse, also sexed up the book, especially leading man Cliff's bisexuality. There have been many local productions over the years in theatres both big and small including one produced by McCoy Rigby Entertainment earlier this year in La Mirada. The tiny Celebration Theatre in Hollywood has just opened what is nearly an immersive staging and is most definitely an unforgettable production that any theatre aficionado cannot afford to miss.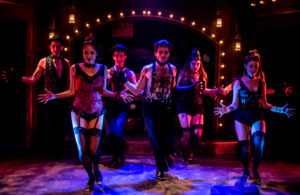 The Emcee (Alex Nee) and the Kit Kat Klub dancers (all photos by Matthew Brian Denman)
Scenic designer Stephen Gifford has turned the intimate playing space into the cramped yet comfy confines of Berlin's Kit Kat Klub, even seating four couples at small tables in the playing area where they function as the Klub's audience. The band is situated high above the action, hovering over the stage that forms the back wall of the set. That stage set is chock full of furniture pieces and props that are put into play when needed. Director Michael Matthews has staged some action in the theatre's entranceway, using every inch of floor space available to him. He has mined this rich and overworked material, discovering new gems of insight into the characters and songs. Choreographer Janet Roston once again worked her magic as she put the leads and the very talented troupe of six chorus members (Jasmine Ejan, Tristan McIntyre, Sarah Mullis, Tanner Rampton, Nicole Stouffer and Mary Ann Welshans) through some very complicated and energetic dance moves on a postage stamp playing space.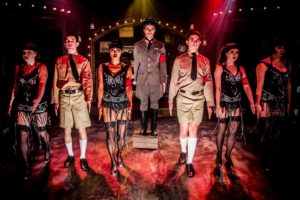 Alex Nee and dancers in "Tomorrow Belongs to Me"
Alex Nee's performance as The Emcee goes beyond the sleaze and degeneracy usually infused in his character; he is downright feral. He totally dominates the proceedings, giving even the hottest action a cold and chilling demeanor. Matthews's directorial slant (aided by the amazing lighting design of Matthew Brian Denman and the constant mist of smoky fog that envelopes the stage) makes this Cabaret a cousin to Tennessee Williams's The Glass Menagerie. It's a memory play, but it would seem to be more the memories of the Emcee, rather than those of the budding American novelist Cliff, for it is the Emcee who watches and often insinuates himself into nearly every scene.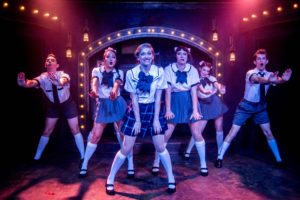 Talisa Friedman and the Kit Kat Klub dancers in "Don't Tell Mama"
Talisa Friedman makes an intoxicating and ultimately tragic Sally Bowles. She displays a sensual swagger in her upbeat songs and yet it is her plaintive love ballad "Maybe This Time" and her angry, cathartic version of the title song which make her Sally one for the memory book. Unfortunately the lovely singing voice of Christopher Maikish as Cliff is not utilized much in this version, but his acting gives the show a much needed sense of dramatic gravitas that makes the fun, madness and growing terror around him palpable.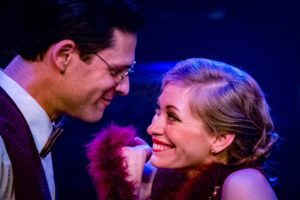 Christopher Maikish and Talisa Friedman
Strong support is provided by June Carryl as Fraulein Schneider and Matthew Henerson as Herr Schultz, the older couple who finally find love only to have the growing Nazi presence tear it away from them. John Colella as Ernst essays that sleek, polished political creature whose fervor grows ever more menacing. Katherine Tokarz as Fraulien Kost adds much needed humor as she seemingly entertains the entire German navy on her brand new mattress.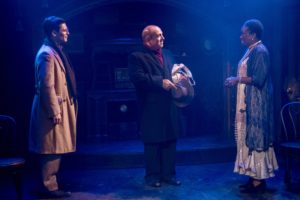 Christopher Maikish, Matthew Henerson and June Carryl
Musical director Anthony Zediker makes the four-piece band sound like a full pit orchestra and Cricket S. Myers' sound design perfectly mixes the vocals with the music. Michael Mullen's costume design is a show unto itself, from the leather and chains bedecked Emcee to the women's peignoirs and intimate wear to the layered schoolgirl outfits that get stripped off piece by piece during the raunchy "Don't Tell Mama." I saw my first production of Cabaret in 1968 and have seen many more since then. This latest will remain with me for a long time to come. Don't miss it!

Celebration Theatre, 6760 Lexington Ave. in Hollywood. Ends Sept. 16. www.celebrationtheatre.com