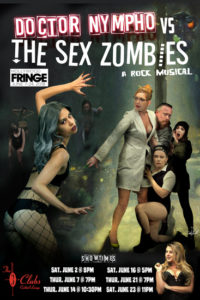 Michael Shaw Fisher won "Top of Fringe" in 2015 with Shakespeare's Last Night Out. He wrote Skullduggery: The Musical Prequel to Hamlet which premiered at Sacred Fools last year. For 2014's Fringe he wrote The Werewolves of Hollywood Blvd. He is back at Fringe this year with Doctor Nympho vs The Sex Zombies and the show proves to be as much fun as its title. There are 16 people in the cast on the tiny stage of 3 Clubs cabaret room so the show is in your face or even in your lap if you are lucky enough to sit in the first row. The costumes are from Frederick's of Hollywood and the Pleasure Chest and the cast seems to delight in wearing them and showing a lot of skin.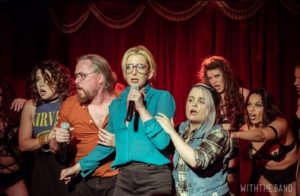 The plot is minimal—Jerry Quimbly (Jeff Sumner) is obsessed with his proctologist who doesn't share his feelings. In a pique, the doctor devises a new plague that creates zombies hungry for sex with genitals seven times their normal size. Dr. Nimfa Delacroix (Alli Miller) has sexual problems of her own and is seeing therapist Dr. Shatz (Rebecca Reaney). But as a doctor at the CDC in Atlanta, she faces the epidemic head on when her family is put in danger.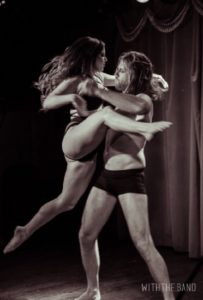 Reaney commands the stage as Doctor Nympho and has great support from the entire cast of humans and zombies including Kristyn Evelyn as her rebellious teenage daughter and Kim Dalton as her internet porn addicted son. Fisher plays husband Tad who not only is "A Cool Dad" but also a "Rock Star Proctologist" and sings the songs to prove it. It's a rock score blasted out by the four-piece band led by Sandy Chao Wang. Sarah Haworth's direction is lively and keeps the show moving swiftly. Brin Hamblin, Reaney, Sarah Haworth and Miller all contributed to the choreography and the talented dancers execute it wonderfully. There is even a zombie ballet featuring Schoen Hodges and Sarah Wines. Doctor Nympho really rocks as well as bumps and grinds.

http://www.hollywoodfringe.org/projects/5368