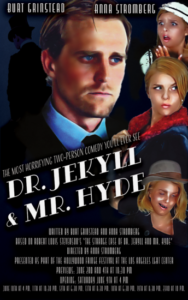 According to Wikipedia, there have been over 120 stage and film adaptations of Robert Louis Stevenson's novella The Strange Case of Dr. Jekyll and Mr. Hyde. Make that 121 as Burt Grinstead and Anna Stromberg's horrifying two-person comedy adaptation, Dr. Jekyll & Mr. Hyde, had its premiere at the Hollywood Fringe Festival. It is more comic than horrifying but that is fine. It breaks up the tension. The show runs barely 80 minutes and there is never a dull moment as the talented duo of writer/performers brings their vision to the stage.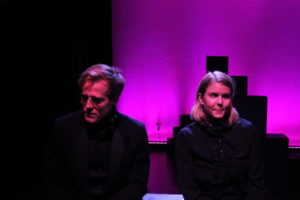 Burt Grinstead and Anna Stromberg
Grinstead plays the dual role of the meek, good-natured Dr. Jekyll with just the right amount of shy uncertainty then with a quick spasm of energy becomes the evil, wet-fur-smelling vulgar and violent Mr. Hyde. Stromberg is a marvel as all the other characters—Jekyll's fiercely loyal maid, his best friend John, a policeman, other doctors and society mavens and victims as well as a sweet innocent maiden.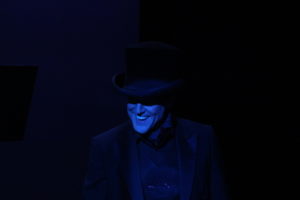 Burt Grinstead
The small, modular set pieces are moved around to great effect to create a series of locales. Matthew Richter designed the lighting which adds to the mood. Grinstead provided the atmospheric sound design while Stromberg directed the piece.

Los Angeles LGBT Center, 1125 N. McCadden Pl. in Hollywood. July 12-29. www.lalgbtcenter.org/theatre