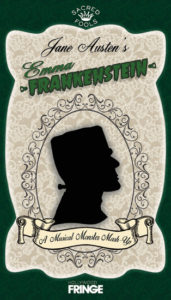 Sacred Fools is presenting a "Monster Mash" at the Hollywood Fringe Festival this June. Jenelle Riley wrote and directed the literary mash up Jane Austen's Emma Frankenstein which is a quick-paced, laugh-filled fun outing. Mama Woodhouse (Jennifer Christina DeRosa) and her three very ready for marriage daughters—the beautiful Jane (Kristyn Evelyn), the assertive Emma (Emily Clark) and the young rebel Harriet (Julia Griswold) are thrilled when the renown Dr. Frankenberry (Graham Skipper) and his pieced together son Frank (Bryan Krasner) and his daughter and lab assistant Igor (Dana DeRuyck) move into their neighborhood. Mama sees eligible bachelors while the Doctor sees new brains for his experiments.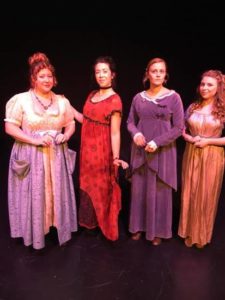 Jennifer Christina DeRosa, Kristyn Evelyn, Emily Clark and Julia Griswold
The show gets off to a rousing start when Emma's song about her world "Somewhere That's Green" morphs into a production number to the theme from Green Acres. TV theme songs from The Mary Tyler Moore Show and The Golden Girls along with an Abba song are among the other tunes that find their way into the script. The singers are plucky if not all that well trained vocally, but singing to tracks is not the main currency here, comedy is, and the cast is up to the comedic nonsense.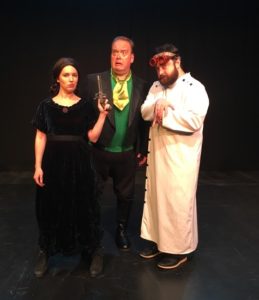 Dana DeRuyck, Bryan Krasner and Graham Skipper
One of the best bits is the constant bickering between literary legends Jane Austen (Lauren Van Kurin) and Mary Shelley (Tifanie McQueen). Jane has decided to mount Emma Frankenstein to cash in on the newly created audience for Pride and Prejudice and Zombies and Sense and Sensibility and Sea Monsters. Mrs. Shelley shows up to defend the integrity of her one and only novel and to rub Jane's nose in her unmarried state. The two ladies finally unite for a rollicking finish.


http://www.hollywoodfringe.org/projects/5339