Well, dear readers, Kritzerland at Sterling's 88 was kind of spectacularly good. All the rough bits from the stumble-through were gone, there was not a single lyric flub and everyone was on their A+ game from start to finish.  I was almost ready to cancel the show last week because we only had twenty-two reservations, sixteen of which were mine.  It finally got a little better by last Friday, when we went up to thirty-two, but for us that's just a sad joke.  But I guess everyone just wanted to wait until the day of the show to reserve because we were well over fifty, which still isn't great for us, but the room looks pretty full at fifty.  It was a really fun group of folks, too, and I knew they would be as soon as I hit the first funny line in the opening patter, a bit about an upcoming production of Porgy and Bess.
The performers were just amazing, each and every one.  Meredith Patterson, her first time with us, knocked the opening number out of the park, and her closer did so, too, complete with tap dancing.  She's a keeper.  And our other newbie, Keir Kirkegaard, did great.  He has a really funny, laid back demeanor I really like and his three numbers were all delightful.  Lauren Rubin was her usual solid self and an audience favorite.  Damon Kirsche was fantastic, but he has such an affinity for The Great American Songbook, a real old-fashioned crooner and a great one. Sharon McNight, who usually doesn't do new material at our shows, did two songs she hadn't really done before and boy did they bring down the house, and she did her incredible arrangement of The Man I Love, which is the very definition of a showstopper.  And young Mackenzie Wrap was delightful in her two numbers – I'd given her a few notes about a few things and she just made them hers and delivered beautifully.  My little comic moment worked well, too – my silly version of Let's Call the Whole Thing Off – I really only do four lines, pronouncing all the words (tomato, tomato, potato, potato) the same – it gets crazier from there.
Many wonderful folks were in attendance, including many of our regulars, but not all due to a rather silly booking of a cabaret show on the same day as us – so we were without a couple of regulars because of that – a shame, but I can't fix being blithely unaware.  After eight years, people, especially people who've done our shows, know when we're on – why you'd go up against that is anyone's guess, but it is what it is.  We had two of the Geissmans – daughter Greer and Grant's mom, who loves the shows and who, of course, was the inspiration for what became GEE.  Sami and her mom were there, Leslie Young's Alexa was there, our favorite editor Marshall Harvey was there, our film music aficionado Henry Stanny was there, former Dancing Dildo Artie Shafer was there, critic Rob Stevens cancelled due to illness, something that I wish didn't happen because we all enjoy his reviews, Howard Green from Disney was there, our own Amy and Mark were there, Shelly Markham was there, and lots of other nice folks.  And of course our beloved Richard and Elizabeth Sherman were there – it looked dicey for a time but in the end they came and so we were able to give him an early Happy Birthday sing-a-long.  He turns 90 very soon.
After the show, there weren't enough of us going to eat, so four of us went downstairs and had some food at The Federal. Actually, they all shared a dessert and I, who'd not had anything but a really tiny salad, had their excellent bacon mac-and-cheese.  Once home, I answered e-mails and stuff, and just tried to relax a bit.  Here is our merry troupe.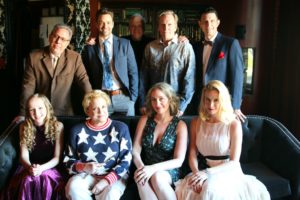 And here is the ubiquitous Sami, me, and Richard Sherman photograph.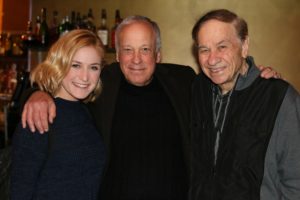 Prior to all that, I got nine hours of sleep, did a three-mile jog, relaxed a bit and had a somewhat annoying back-and-forth with some twit on Facebook about the Midnight Cowboy transfer – he's one of these moronic "it's got a green tint over the whole thing" guys – he hates Criterion, and that bias colors his perceptions, clearly.  I posted that he had no idea what this film looked like if he thinks this transfer is anything but great, he argued that he saw it in 1969 (don't believe him) and that he saw an original 1969 print recently and THAT is how he knows how wrong this is, that plus the previous home video releases. Of course, anyone who thinks a previous home video release is some kind of proof of anything is a joke.  And as I told him, this film was Eastman color – there were no Technicolor prints and therefore him saying that he saw an original 1969 print a little while ago makes him a complete ninny who knows nothing about printing, color, or film stock, because any original 1969 print of Midnight Cowboy would have completely faded within four years of its life.  So what he saw would have been a completely faded print, and he thinks THAT is what this film looks like.  And how did he deal with someone calling him on his crap? He deleted all those posts so that only he and his cronies' posts were left, and not one of his cronies had actually seen the new transfer – he just kept posting the same sorry and stupid screen caps that caused the brouhaha from the beginning.  This thing has gotten pretty unanimous raves from everyone who's seen it.  Anyway, I unfriended him and I think I'll block him, too, because who has time to do back-and-forths with idiots?  Not me. Not I.  Not we.
Then I moseyed on over to The Federal for sound check, and the rest you know.
Today, I plan to sleep in, then I'll do a few things, and I know the helper has to ship the last of the International orders. Other than that, I'll start planning the next Kritzerland show, cast it, figure out who'll be doing the reading of our new musical this month (informal, at my house), I'll eat, hopefully pick up some packages, jog, and then I have to see a little presentation at the Group Rep.
The rest of the week is meetings and meals and more of the same.  I'm seeing a couple of things, too.
Well, dear readers, I must take the day, I must do the things I do, I must, for example, sleep in, do a few things, figure out the July Kritzerland, figure out our reading cast, eat, hopefully pick up packages, jog, and see a presentation.  Today's topic of discussion:  What are your favorite lesser-known musicals of the 1960s?  Let's have loads of lovely postings, shall we, whilst I hit the road to dreamland, happy to have had a great Kritzerland at Sterling's 88.