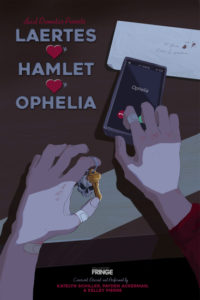 Evidently the three playwright/performers of Lucid Dramatics were experiencing the "Hamlet Effect" when they wrote Laertes Loves Hamlet Loves Ophelia which they are performing at the Hollywood Fringe Festival. They define the effect as "that feeling of dread and resignation when Western theatre's most significant and overproduced drama enters the conversation". Their cure is a 60-minute "what if" transporting the three best friends from Shakespeare's tragedy to our modern world, making them uncomfortable roommates and the three sides of a love triangle. It's an interesting riff on very familiar characters, looking at the private time the three had between the funeral of Hamlet's father and Ophelia's suicide.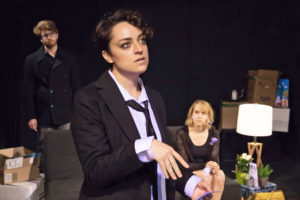 Payden Ackerman, Katelyn Schiler and Kelley Pierre
Laertes (Payden Ackerman) is more than happy to offer his best friend (and secret crush) Hamlet (Katelyn Schiler) a place to stay in the still unpacked (after a year) apartment he shares with his sister Ophelia (Kelley Pierre). Ophelia is not so sure Hamlet couldn't cope better with his grief with his family in the aftermath of his father's sudden death and his mother's quick re-marriage to his uncle. But she goes along with her brother's open hospitality and soon wishes she hadn't. Not only is she trying to hide Hamlet's amorous pursuit of her from her brother but she begins to think a lot of Hamlet's drama is self-made. The three actors are personable and committed to their roles and their show is a fun substitute for the usual paranoia and high body count found in Hamlet.


http://www.hollywoodfringe.org/projects/5184