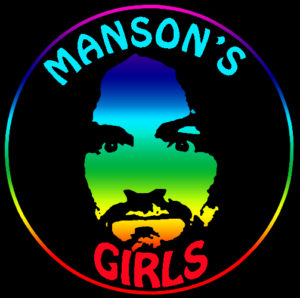 At the 2017 Hollywood Fringe Festival, New Musicals Inc. presented four evenings of new musicals, 12 in all running 15-20 minutes each. This year they are presenting one full-length 90-minute outing, Manson's Girls. Yes book writer Scott Guy, along with composer Ron Barnett and lyricist Mitchell Glaser, has gone back to the summer of 1969. The Summer of Love had taken place in San Francisco two years earlier; this was to be the summer cult leader Charles "Charlie" Manson hoped to start a race war he termed "Helter Skelter."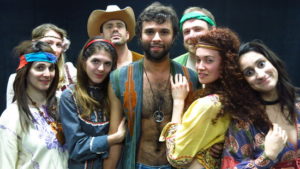 The Manson Family
Director Guy and his young, energized cast capture the look, feel, heat and danger of that moment in history. Barnett and Glaser have done a good job of recapturing that period in their mostly guitar and bass-heavy mostly rock score and the four-piece on-stage band under Guy's direction really rocks it. For the most part, the girl's all possess strong singing voices and each has a special song to fit their character. The newest member of the Manson Family, the jittery and unsure Linda (Erinn Elizabeth O'Sullivan giving the truest performance), is "Little Girl Lost." (Song titles are the best I can make out from the lyrics since no song list was provided.) Karlee Squires as Cheryl "Zephry" Saige sings "Runaway," advice she herself takes before the fateful night of August 9. Patricia "Big Patty" Krenwinkel essays "Color Me Red" while Lynnette "Squeaky" Fromme (a delightfully manic Lauran Dewey) asks for "Just a Little More." Megan Rose Ruble as Susan "Sadie Mae" Atkins and Christine Anatone as Mary "Marioche" Brunner act like a pair of jungle cats–fighting over Charlie, over who is in charge, over the pitiful spoils. Even Sharon Tate (Lauren Byrd) gets a lullaby to sing to her unborn child in an earlier, non lethal, confrontation with the Manson Family.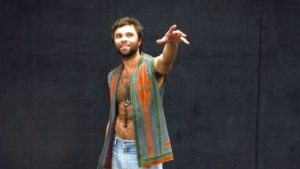 Troy Armand Barboza as Charlie Manson
Troy Armand Barboza strikes a sensual, mesmerizing figure as Manson but Guy needs to give his character some more subtext. The story is focused more on the girls and their interactions, but we need to see why they, along with the guys "Tex" (James Schueller) and "Bobby" (Randle Rankin), follow Manson with such blind trust. Guy's direction features most of the solos performed on standing mics at stage right, sort of cabaret style, a good choice since the band often drowns out the singers and the lyrics in the regularly staged numbers. Choreographer Heather Castillo doesn't have much to do but she does stage one number for the girls a la Busby Berkely if he ever had his chorus girls swinging and slashing with machetes. Manson's Girls needs some polishing but it could end up being a real killer.


http://www.hollywoodfringe.org/projects/5158