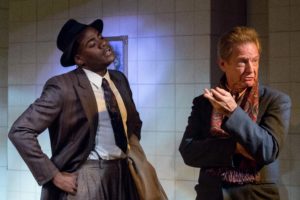 Donathan Walters and Darrell Larson (all photos by John Perrin Flynn)
Prolific Los Angeles playwright Tom Jacobson has really proved his profligacy this month with the opening of a trilogy of plays about the historic Los Angeles Bimini Hot Springs at three different small theatre venues. Plunge set in 1908 opened first at Son of Semele Ensemble, Mexican Day set in 1948 opened a week later at Rogue Machine Theatre and then Playwrights' Arena opened the final play Tar which is set in 1939. The plays are inter-connected with a couple of characters featured in or talked about in all three but you don't have to see them in sequence or even see all of them to experience this paean to the past world that Jacobson has created. The Bimini Baths was a bathing spa and health clinic located at where hot springs surfaced on Vermont Avenue between First and Second Streets.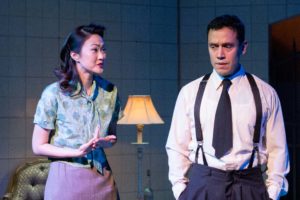 Jully Lee and Jonathan Medina
In Mexican Day, noted civil rights activist Bayard Rustin (Donathan Walters) comes out from New York to lead an effort to integrate the baths. In 1948 people of color were only allowed admission on "Mexican Day," a day when the bath water was so filthy it would be emptied at the close of business. He finds a willing accomplice in Japanese American writer Hisaye Yamamoto (Jully Lee), who spent part of World War II in an internment camp. Even though she writes for a Negro newspaper, her editor does not condone her activist bent. Mexican gate keeper at the baths, Zenobio (Jonathan Medina) is caught between a rock and a hard place. He's a decorated war hero but back at his job, he is compelled to enforce the rules and forbid admission to Rustin and Yamamoto. Rustin decides to enlist a white male to help their cause, but disgraced art historian turned screenwriter Everett Maxwell (Darrell Larson) has his own demons to face. He has been banned from the baths for decades and he has a past history with Zenobio that has left both men broken. Jacobson skillfully weaves all the various story threads into a moving piece of theatre, skillfully enacted by the quartet of actors under the deft direction of Jeff Liu. John Iacovelli designed the bathhouse setting complete with two turntables that easily transform to the various locales.


Rogue Machine Theatre, 1089 N. Oxford Ave. in Hollywood. Ends July 15. www.roguemachinetheatre.com