Well, dear readers, we had us a fun first rehearsal for next Sunday's Kritzerland show, which is called Kritzerland Goes to Disneyland.  Here's the flyer.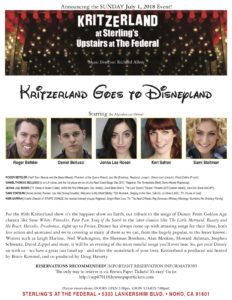 First to arrive was Jenna Lea Rosen.  We ran her three songs and she was, as always, very prepared.  We began with Belle, the arrangement we did for Michelle Nicastro's Toonful album. Then it was the title song from Beauty and the Beast, and finally the most recent song we're doing, For the First Time in Forever, from Frozen.
Then came Daniel Bellusci.  We had to do the most work with him, mostly key changes and smoothing out stuff in the arrangements, but it all went very well. We started with Santa Fe from Newsies, the stage version, then it was Go the Distance from Hercules, and finally a put-together of Heigh-Ho and Zip-a-dee-Doodah.  Really fun that one is and it's always nice to have Daniel with us.
Then Sami arrived and we ran her three.  First was Just Around the Riverbend.  I'd already told her to listen to Christiane Noll's recording that I did because I was going to insist that "riverbend" in its final use could not be broken up by a breath, which I think every singer always did, until I asked Christiane if she could do it without breaking it up. We figured out how to do it for the recording.  But I hadn't told Sami how and she said it was impossible to do, no way.  Then I told her where to breathe and how to phrase and voila – she did it perfectly.  Then she did Part of Your World, also the Michelle Nicastro arrangement.  And finally it was a put-together of True Love's Kiss and A Happy Working Song from Enchanted.  Sami sounded great, I gave a few little notes and that was that.
Finally, we had Roger Befeler.  We also had to figure out a few key things for him, but that all went very smoothly.  First we ran Candle on the Water, then I Wanna Be Like You, and finally If I Could Love Her, a song he performed as The Beast in the national tour of Beauty and the Beast.  Our fifth performer, Keri Safran, isn't with us until Friday.  Richard Allen is the pianist.
Prior to that, I'd slept until noon for nine hours of sleep, with some really odd dreams.  Once up, I listened to music whilst answering e-mails, I had a telephonic conversation, we added a really good performer to the Sherman event, then I went and had some chicken tenders (really tiny for some reason) and a side Caesar salad that had so much dressing on it I could not even see the lettuce. I love dressing but that was like a whole bottle on a small salad, so I sent it back and they brought me a properly dressed one, which I ate all up.  After that, I picked up a couple of packages, then came home.
Once home, I continued my music listening.  I heard so many great albums: Actually I heard my least favorite Toots Thielemans CDs, so I nuked that – a rare misfire from him, at least for me.  Then a wonderful guitar player named Johnny Smith, two great Stan Getz albums, one with Michel Legrand and an uncredited The Swingle Singers, called Communications 72, and the other with Stan, a quartet, and a chorus of voices arranged and conducted by Claus Ogerman, so you know that was great.  Then we had our rehearsal.
After that, I went to Gelson's and got some junk for my evening snacks – a couple of beef potstickers that were merely okay, and some rather annoying mac-and-cheese but not conventional.  I like conventional.  Then I continued listening music whilst starting to write the commentary for the Kritzerland show.  I only got a few songs in but at least it's on its merry way.  I listened to the second Mason Williams album – not as great as the first, but still with some wonderful tracks and one classic song. And then it was Ella Fitzgerald and Louis Armstrong's Porgy and Bess, which is, for me, one of the greatest albums ever made.  The stereo sound is to die for, they're at the top of their considerable game and the charts by Russ Garcia are brilliant – and the orchestra is fantastic.  It works amazingly well – the album was voted into the Grammy Hall of Fame a few years ago and was that deserved.
Then it was The Modern Jazz Quartet's The Comedy. That album, which I bought solely based on the cover since I had no idea who they were, was a huge discovery for me and I became an immediately fan and got several other albums by them.  But The Comedy has always held a special place since it was my first.  I'd completely forgotten that it has one vocal on it – by Miss Diahann Carroll. Great sound, too.
Then my mind was officially blown by a two-fer album by a group called Les Doubles Six.  I'd never heard of them, but in researching The Swingle Singers found that Les Double Six were the precursor to the Swingles, with several of the same singers, including Ward Swingle.  The vibe is completely different but holy moley on rye, they are seriously mind-altering. Some of the most amazing vocal pyrotechnics you will ever hear.  I just sat there with my couth on the floor.  My COUTH on the floor?  What the HELL was my COUTH doing on the floor when it should have been my MOUTH.  Then it was a fun 1970 album of Jimmy Webb music as done by the German conductor Kurt Edelhagen and his orchestra.  It's easy listening but I'm a sucker for these kinds of albums – and interestingly the arrangements are credited to Quincy Jones, J.J. Johnson and two others.  There is, however, much doubt as to whether Quincy actually did anything or just farmed it all out, as was his occasional wont.  It's fun.  Finally it was Eddie Costa's cover album of Guys and Dolls like Vibes.  I like it a lot – the pianist was the new kid on the block, Bill Evans, and you know I love vibes.  It's just a classic jazz treatment of a few songs.  The surprise is that it's in mono, surprising as it was made in 1958.  Go know.
Today, I'll do the usual morning things, then we have a meeting at the Wallis for the Sherman event.  I have my stage manager coming, and we'll discuss more particulars as we move closer to the date.  After that, we'll try to get back here before the traffic goes crazy and I'll eat, hopefully pick up some packages, and then relax with yet more music.  When I'm finished with this batch I will be taking a break from listening or I'll relisten to a few of my favorites.
Tomorrow and Thursday I must rest, finish writing the commentary and do the usual things, like figure out the August show – the only thing I know at this point is that it will be a repeat show, just have to choose which one – continue booking folks for the Sherman event so we can solidify all the song choices and get all that music in the works.  Then Friday is our second rehearsal, Saturday is our stumble-through, then Sunday is sound check and show.
Well, dear readers, I must take the day, I must do the things I do, I must, for example, have a meeting, eat, hopefully pick up packages, write more commentary, listen to music, and relax. Today's topic of discussion: What are your favorite Chinese food dishes, especially appetizers?  Let's have loads of lovely postings, shall we, whilst I hit the road to dreamland, happy to have had a good first rehearsal and happy to have had my mind officially blown by Les Double Six.