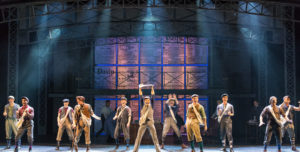 (all photos by Jason Niedle)
Walt Disney Pictures first all-live action film, 1992's Newsies, was a big box office bomb even with Ann-Margaret, Bill Pullman, Robert Duvall and the up and coming Christian Bale in the cast. Once the film hit the home video market, it became a cult favorite. In 2012 Disney Theatricals mounted a stage production, Disney's Newsies The Musical, which ran for over two years on Broadway. Now McCoy Rigby Entertainment has mounted the Southern California Regional Premiere.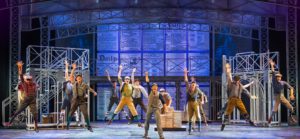 The action is set during the New York City newsboys strike in the summer of 1899, when publisher Joseph Pulitzer raised the price of the "papes" NYC's many destitute young orphans counted on for making a living and keeping them out of rat-infested welfare domeciles. Unfortunately choreographer/director Richard J. Hinds' production has no sense of time or place. The scenic design by David McQuillen Robertson & Fourth Wall Scenic is basically just a series of moving stairs and scaffolding. Projections, which have become de rigueur in most stage productions these days, would have helped to give the story some sense of placement.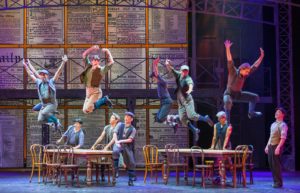 Harvey Fierstein reworked the film script leaching it of any semblance of reality and making it a feel good power to the people paean with an unbelievable love story thrown into the mix. Alan Menken and Jack Feldman augmented their film score but most of the songs come across as anthems and sound alike. That works in a historical piece about injustice like Les Miserables, but here it just is not a good fit. The pit orchestra, with musical direction by Brent Crayon, makes the score sound better than it is and the cast features strong voices.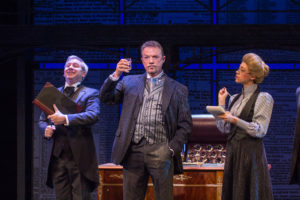 Paul Schoeffler as Joseph Pulitzer
Hinds' choreography is lively, energetic and well executed by the large chorus of male dancers. But their jumping, spinning, cartwheels etc. more often resemble a gym workout rather than a dance break. The well-buffed bodies, with "guns" a blazing, are well displayed in the tight fitting and spic and span costumes by Maine State Music Theatre Costume Rentals. I am sure Annie, Oliver and even little Cosette would be extremely jealous because these are the cleanest and best fed Broadway orphans ever.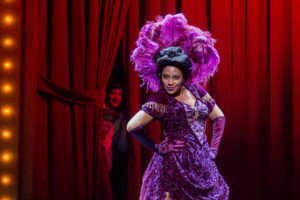 Daebreon Poiema as Medda Larkin
The more mature members of the cast—Paul Schoeffler as Pulitzer, Daebreon Poiema as Medda, John Massey as Theodore Roosevelt and Doug Carfrae in a variety of roles—add some much needed seasoning to the proceedings.

La Mirada Theatre for the Performing Arts, 14900 La Mirada Blvd. in La Mirada. Ends June 24. www.lamiradatheatre.com