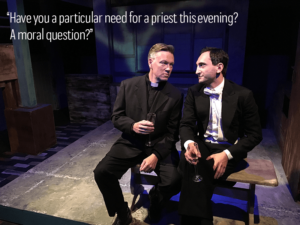 Dan Via and Gary Patent
A Catholic priest and an art historian flirt at a cocktail party. This could be the opening line of a joke. Or how about a Catholic priest and an art historian strip down at a famous bath house. Could be another joke but not when the bath house is the famous Bimini Baths in Los Angeles circa 1918. Especially not in the talented hands of playwright Tom Jacobson. Son of Semele Theater is presenting Plunge, the first of a new trilogy of plays in Jacobson's The Ballad of Bimini Baths. Jacobson has created a surreal encounter between two real life characters, Father Edward Reynolds and Everett C. Maxwell, both homosexuals with a penchant for young boys. Reynolds may have actually killed one of the boys he sexually used in 1908 and gotten away with it. Maxwell spent a year in San Quentin for "mistreating" a 13-year old boy in the Boy Scout troop he led in 1915.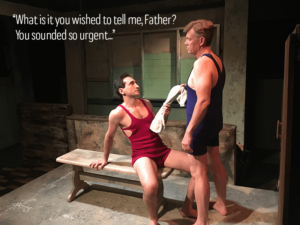 Gary Patent and Dan Via
Jacobson sets most of his action in a private room at the baths where, between taking various therapeutic treatments, the two men share their encounters. Both were sexually abused at a young age themselves and that fact colored their lives afterwards. Both are seeking atonement, confessing their past sins and hoping for redemption. Plunge is a memory play, but just whose memory are we witnessing? The two men probably never met since Reynolds disappeared after 1908. The action is set in 1918 where the two men meet at a party thrown by L.A. Times publisher Otis. Jacobson has written a terrifically involving tale that grabs its audience's attention and never lets go of it. Plunge is part history lesson, part mystery, all engrossing.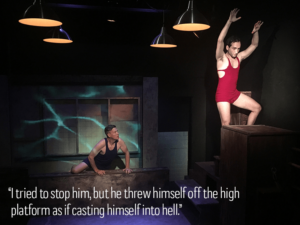 Dan Via and Gary Patent
Matthew McCray has directed with a sure, steady hand, never letting the constantly mounting tension abate. Dan Via makes a strong and, at times, threatening presence as Reynolds. Gary Patent plays the meeker, more flirtatious Maxwell. The two actors also each briefly play a range of other characters from bath house attendants to law enforcement officials to the object of their lusty desires. Both give mesmerizing, pitch perfect performances. Michael Fitzgerald's set design evolves to the many varied locations.


Son of Semele Theater, 3301 Beverly Blvd. in Los Angeles. Ends June 24. www.sonofsemele.org