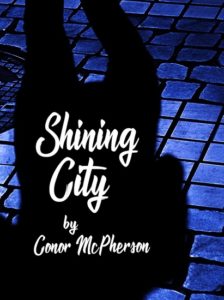 Irish playwright Conor McPherson likes to insert a bit of the supernatural into his plays—a devil here, a ghost there. His 2004 Shining City, presented by Hicks Street Productions at the Hollywood Fringe Festival, is a ghost play. John (Eddie Kehler), a 54-year old Dubliner, is being haunted by the ghost of his wife who was killed a few months earlier in a car accident. John is afraid to stay alone in the house he shared with his wife during all the years of their barren marriage. He is living at a nearby B&B but his work and social life are suffering from the effects. His doctor has recommended he see a therapist but his first choice had a four-month wait. So John finds himself in the office of newly licensed Ian (Brian Foyster). John tells the story of his marriage, his attempts at infidelity and his fears in long monologues, spellbindingly told by Kehler. Talking it all out seems to help and John seems on the road to a brighter future by play's end.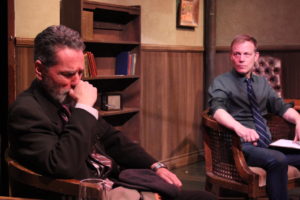 Eddie Kehler and Brian Foyster (photo by Matt Richter)
We discover Ian's life is just as messy as John's but there seems to be no one he can really talk to, and besides he doesn't have the words to really express himself. He has recently left the priesthood, launched his therapy practice, hooked up with local bar maid Neasa (Kate Whitney) and may have fathered her child while living on the wearing thin kindness of his brother and his wife. But Ian is struggling with his relationships, reaching out to a local hustler (Burt Grinstead) to test his secret urgings. Foyster and Kehler have co-directed the piece and the acting is top notch. But it is McPherson's knack for creating flawed characters and giving them intriguing stories to tell that is the real star here and makes this Shining City really shine.


The show is being remounted Aug 3-26 at Hudson Guild Theatre, 6539 Santa Monica Blvd. in Hollywood. www.plays411.com/shiningcity