Well, dear readers, we had us a pretty terrific private reading of the new musical last night.  My voice, which had actually been doing fine all day, well – allergies started up so I wasn't as strong as I would have liked, but I got through it and everyone said I sounded okay.  We had mostly actors from the Group Rep talent pool, and they all did a swell job. Additionally I had Robert Yacko with us (he's too old for the role but I knew he'd read it exactly right, and he did), my pal Sara Ballantine, whose mom starred in all the Julius Monk revues, and young Peyton Kirkner who, of course, is actually doing the show come November. Doug's daughter Hartley read the lead and she did great, but everyone read with gusto.  One of the artistic directors was a no-show – even though he was reminded last night at the same time the other one was, he thought somehow it was next week.  Oh, well. The one that was there seemed to enjoy himself and was very complimentary afterwards.  The fact is, the show is in very strong shape because Doug and I did tons of the kind of work you'd normally do after a reading prior to the reading.  All those long, torturous sessions to try and get the book concise, fun, and have the flow I wanted really paid off.  I know I can be frustrating for writers because I'm very strong about what I want and how I feel things should work, but Doug was great about listening and trying things and the result is a very strong book.  Everyone seemed to enjoy the songs – certainly I'm very pleased with them and it's really fun to sing with Richard Allen's wonderfully orchestrated tracks.  Peyton sang her solo song and brought down the house, and she'd learned her part of the duet she's in, so she sang along with me and that worked great.  That song is so hard for me to get through without getting emotional – it just came out really well and hits all my buttons – it's called Little Miracles.  So, both Doug and I were so pleased by everything, so pleased that we went out afterwards and stuffed our faces.  Here's the title page of the script.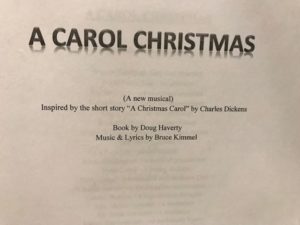 Prior to that lovely event, I'd slept nine hours, cleared the guck out of me, picked up some packages, tried to go to Jerry's for a light lunch but it was too crowded so instead I stopped at Ralph's and got the wrap I like, and that was only 500 calories.  Then I went to the garage and brought in another thirty CDs – I'm having so much fun listening to stuff I haven't heard in twenty or thirty years and every time I wonder why I'm such a collector of CDs, this is the payoff. I have everything there for me to hear. And the rediscoveries during the past week have been great – especially the Modern Jazz Quartet CDs, the Jacques Loussier CDs, the Swingle Singers CDs, all the Gary McFarland and Lalo Schifrin and Don Sebesky and Wes Montgomery CDs – just incredible stuff – it's been amazing.
I also have been "reviewing" up a storm at Amazon – I got it into my head that it would be really fun to be a top 1000 reviewer. At the time I got that into my head it was to counter the mostly inane "reviews" that people leave there.  And at that time my reviewer ranking out of about twenty million people was around 150,000.  Well, as of today my reviewer ranking is around 1,500 so I'm within spitting distance of my goal.  Pretty good. I'm already a top contributor for classical music, a badge I wear with some pride.  Then people arrived and the rest you know.  Oh, you don't know that when I came home after our late-night repast, the Internet had gone down at some point – how irritating.  I had to unplug the router and plug it back in and that took care of that.
Today, I'm going to just zone out until Sami arrives, and then we'll mosey on over to the Sherman Brothers event at the Academy, which should be fun.  There's a little VIP reception first, then the presentation, then I've been told that some of us will go out after, but we'll have to see how late it is.  I will, of course, have a full report.
The rest of the week is meetings and meals and going and doing and doing and going.  And making a show order and writing commentary.
Well, dear readers, I must take the day, I must do the things I do, I must, for example, relax, hopefully pick up packages, eat a little something, and then attend an event.  Today's topic of discussion: It's Ask BK Day, the day in which you get to ask me or any dear reader any old question you like and we get to give any old answer we like.  So, let's have loads of lovely questions and loads of lovely answers and loads of lovely postings, shall we, whilst I hit the road to dreamland, happy to have such a delightful private reading.