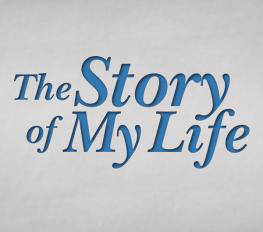 We all have those friends from childhood, friends we thought we would never be separated from, friends we thought we would never lose touch with no matter how many years, how many miles separated us. That is why The Story of My Life, a 90-minute musical with book by Brian Hill and music and lyrics by Neil Bartram, will hit a soft spot in most viewers. The musical is being presented at the Hollywood Fringe Festival by Chromolume Theatre and the bare bones production lets the music shine brightly. Musical director Richard Berent accompanies the cast of two on piano and Michael Marchak's direction keeps the show flowing smoothly.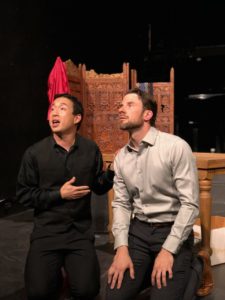 Daniel Koh and Andrew Schufman (all photos by Joshua Koh)
Hill's book looks at the life-long friendship of the exuberant Alvin (Daniel Koh) and the more straight-laced and protective Thomas (Andrew Schufman). They are put together by their first-grade teacher at a Halloween costume day when Alvin, wearing his recently deceased mother's fuzzy slippers and chenille bathrobe, is the only one to guess Thomas is dressed as Clarence, the angel from It's a Wonderful Life. Thus starts a life-long tradition of spending Christmas Eve together, watching the movie indoors and making snow angels outdoors. Thomas is reminded of this and other memories of his long friendship with Alvin when he returns to deliver the eulogy at Alvin's funeral. Thomas moves to a big city for college and become a famous writer of short stories, always encouraged by Alvin, who remains in their small hometown, taking care of his father and his father's bookstore.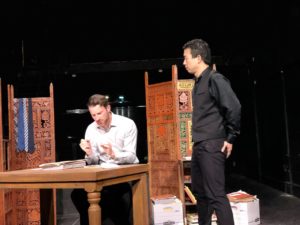 Andrew Schufman and Daniel Koh
The highlight of Bartram's score is "The Butterfly," soaringly sung by Schufman. The score is a mix of comic ("Mrs. Remington") and the bittersweet ("Saying Goodbye"). Schufman has the more serious role and manages the light and dark of it very well and has a lovely singing voice. Koh has a joyous stage presence that makes his at times outrageous behavior acceptable. His singing voice strains at times to reach the notes, but is not unpleasant. The two make a good team.

http://www.hollywoodfringe.org/projects/5236