Well, dear readers, I'm not exactly sure what yesterday was but it was definitely a day. I distinctly remember that it was a day. But I must not dwell on such things for she of the Evil Eye will be here all too soon and I also have a ten o'clock musical theatre workshop to do.  Whilst writing these here notes Nat King Cole is singing the song from Haji Baba, a motion picture I saw at the Ritz Theatre on Wilshire Blvd. one of only two movies I saw there – the second being Scent of Mystery in Smell-O-Vision.  As I recall, Haji Baba smelled pretty bad all on its own.  This is a CD of Nat's movie songs, a wonderful compilation you should try to find – you get all the great songs – Samson and Delilah, St. Louis Blues, Raintree County, right up through Cat Ballou.  But before we go any further, several of you have requested that I post my opening remarks for the Richard Sherman event.  As I am walking out to the stage all that is going through my mind is the elephant in the room, which was palpable.  The elephant being the total and utter chaos with the tickets, all caused by one person (something we'll be discussing at length at our post mortem) – people angry because their confirmed tickets were not there. Eventually a few disgruntled folks left, while just about everyone else got in, but the elephant was large.  So, the minute I hit the mic I decided on the spot to just take care of that elephant.  I say that so that you understand why the laugh is so big – it was a big release.  I'm not always that fast on my feet, but thankfully I was that night.  Hard to believe it was already an entire week ago. Anyway, here it is.
So, yesterday was definitely day.  I only got about five hours of sleep.  I couldn't fall asleep, some of which had to do with the heat – I can't do air conditioning at night, it's just wreaks havoc with my voice.  Once up, I shaved, answered e-mails, and then at ten-fifteen Richard Allen arrived and we got the music organized for the Kritzerland show. Oh, here's the flyer for it.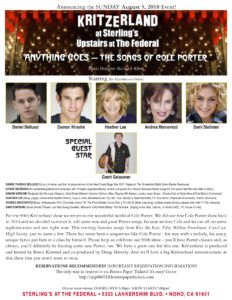 It was a fairly quick session.  At eleven-thirty I went and picked up a couple of packages, then headed to the NoHo Jersey Mike's, which never has the crowds that the Sherman Oaks one does – I got the turkey and provolone Mike's way, the giant size, which is, in essence, two sandwiches totaling just under 1000 calories.  So, I came home and ate half, and then had the other half later in the evening and the calorie count was just right.  I finished the commentary, so that was good.  I'm sure I'll be finessing it at some point.  Then I sat on my couch like so much fish.
Last night, I watched a motion picture on the Flix of Net, a Spanish picture from Spain entitled The Warning.  I was enjoying it very much until about two-thirds of the way through, at which point it just devolves into something else, which is unfortunate as it was pretty involving until then.  I tried to find something else to watch, but couldn't, so I listened to music for the rest of the evening.  Sue Raney from the late 1950s on Capitol with Nelson Riddle, a wonderful compilation of jazz tracks from Verve all accompanied by strings.  My favorite track on the compilation was a gorgeous I Loves You Porgy (entitled I Want to Stay Here) with Buddy de Franco (clarinet) and a stunning arrangement for strings.  I'm going to have to find the album that's on because it's seriously great. Then it was Nat at the Movies, and I shaved again, this time closely, so I don't have to that this morning. Otherwise, I just relaxed, sort of. I did have to do a quick Ralph's run as I'd run out of Diet Coke.  I got a 100-calorie pudding cup for dessert – very good. 
Today, I'll be up by eight, shower, get my faculties together, take some boxes out to the garage, and then I'll mosey on over to the Group Rep to do our third and final musical theatre workshop for three hours. I'm told we'll have about eighteen people, so that's a good number.  After we finish, Doug Haverty and I will go to a restaurant, eat, and hammer out a rough timeline and schedule for auditions and all prep work for the show.  We are going to have to do an Indiegogo campaign.  They do have a budget for the show, but we're going to need about $10,000 beyond that for the sound and lighting and set design, sound being the most important element.  We'll have some fun perks to check out.  After that, I'll come home and do nothing but relax.
Tomorrow, I have a brief meeting about a potential project, but otherwise I'll spend an hour figuring out who we're going to ask to be in our eighth anniversary show, which is next up for us.  I already know two people, and we'll probably have about seven folks in this one. I want to make it a really fun and sassy show as we begin what will be our final ten shows.  Once we hit 100 I think I've made the statement I wanted to make, and I think it's a record that will not be broken for probably forever – the longest running LA monthly cabaret show of its type.  Then we have our Kritzerland rehearsal week, and I'm attending the dedication of the Sherman Brothers stage at Disney, which should be fun. The lunch with Nick was rescheduled, so hopefully that can happen next week, and there are other meetings and meals, too. 
Well, dear readers, I must take the day, I must do the things I do, I must, for example, be up early, do a musical theatre workshop, eat, hammer out a timeline and rough schedule for A Carol Christmas, hopefully pick up packages, and then relax. Today's topic of discussion: What are your favorite Nat King Cole albums and songs?  Let's have loads of lovely postings, shall we, whilst I hit the road to dreamland, happy to have had the words Haji Baba in these here notes for the first time in eighteen years.