Well, dear readers, Kritzerland at Sterling's 89 is done and it instantly went into the pantheon of great Kritzerland shows, and that is saying something.  Everything about it went perfectly – from performances without a single fumfer, performers perfectly suited to the songs they were singing, Disney songs that were and are classics, a really good structure and show order, and an audience I knew was going to be one of our best audiences ever, and man was it full.  I knew exactly what kind of evening it was going to be by the end of my first line – great laughs that enabled me to be very loose with everything the entire evening. A lot of the humor in these shows plays like I'm making it up on the spot, but the fact is 98% of it is on the page. The opening especially sounded like I went off on a tangent, but it was all scripted – that said, because I do the opening patter by heart it always feels spontaneous.  The opening humor is a little too convoluted to actually recreate here on the page, but it involved words you may or may not be able to say anymore due to triggers – I specifically referenced Disney films, Darby O'Gill and the Little People by asking if you could say "little people" anymore, if the title should be changed to "the height-challenged people" or if you could say Snow White and the Seven Dwarfs anymore or if you could say ANYTHING anymore.  And I just kept going on and on and it was really fun and the laughs just kept coming – my favorite thing.
Jenna Lea Rosen opened with Belle and was superb in that and her other two numbers, all of which got hefty mitts, but then every song got hefty mitts.  Daniel Bellusci did the best Santa Fe ever (the film version – I hate the stage version) and got all his lyrics, and his other two songs also went great – his best show for us ever, and the audience especially loved the Heigh-Ho/Zip-a-Dee-Doo-Dah put-together.  Sami Staitman also had one of her best shows and she's done more of 'em than anyone.  Her Part Of Your World was just great, as was her other two numbers, and she had a ball with Happy Working Song from Enchanted.  Roger Befeler also had his best show for us – he was so relaxed and fun with I Wanna Be Like You, and the musical joke we put in the middle got a huge laugh.  In rehearsal one day Richard was playing the vamp after the first two verses and for some reason it sounded just like the famous vamp in the middle of Dance Ten – Looks Three when Val is talking.  So, we tried it and it made me laugh out loud because it was so incongruous – but then the topper was we were going into the new Richard Sherman verse about the gigantipithicus from the recent Jungle Book – I'd set it up in the patter – so Roger did this little dance thing as the Dance Ten – Looks Three vamp began then turned to the audience as Val does in A Chorus Line, and said, "You're all looking at my gigantipithicus, aren't you?"  It was a great laugh that Roger played perfectly.  And his final song, If I Can't Love Her was fantastic – he'd played the Beast on the national tour and he just nailed the number.  Finally, Keri Safran was fantastic doing her two cat numbers, which the audience loved, and then the simplest and most heartfelt Feed the Birds, and then her closing two classic ballads.
The patter throughout worked like a dream, which is why I occasionally went off the page and did something spontaneous.  Richard Sherman loved the performances of his songs – he was beaming.   We had Grant and his mom there, a full house of Haverty people, Adryan Russ and Dale Cooke, Cindy Pearl and her friend, Marshall Harvey, D.C. Fontana and Dennis Skotak, lots of friends, some of our past young performers like Hadley Miller and Autumn Jessel, Howard Green and several folks from Disney, and he'd brought one of the stars of Crazy Ex-girlfriend, a show I've never seen and know nothing about – he was super nice and I'm hoping we can coerce him into doing the Sherman event and even a Kritzerland show, because he loved what we did – his name is Vincent Rodriguez.
After, a bunch of us went to Little Toni's.  I had some pasta with meatballs.  I ate both meat balls but only about two ounces of the pasta as the red sauce there doesn't agree with me.  But we all had fun.  All in all, a pretty perfect evening any way you look at it.  Here's a photograph of our merry troupe – from left to right – front row: Jenna Lea Rosen, Keri Safran, Sami Staitman.  Back row left to right: Roger Befeler, Richard Allen, li'l ol' me, Daniel Bellusci, and Doug Haverty, still in costume from his role in Rumors.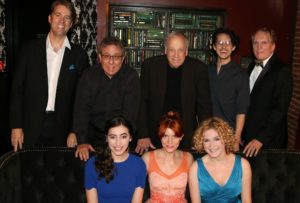 Prior to all that, I got eight hours of sleep, got up, had two telephonic conversations, listened to music, relaxed, then got ready to mosey on over to The Federal.  Once there, we did our sound check, I had a little dinner salad with vinaigrette, and then we did our show.
Today, I must really relax and clear my head for all the busy stuff coming.  I have to try to cast our final few performers for the Sherman event, and I've already set two of our five August Kritzerland cast members and because 70% of that show is an encore show, it will be very easy to put together, which is what I need it to be.  I have to begin structuring the Sherman show, too.  I'll bank, eat, hopefully pick up some packages, and then relax.
The rest of the week is meetings and meals, including a dinner with just me, Richard, and Elizabeth Sherman – we've been trying to do that for quite a while.  I'll get back to jogging, too.
Well, dear readers, I must take the day, I must do the things I do, I must, for example, relax, clear my head, cast, eat, bank, hopefully pick up packages, and relax.  Today's topic of discussion: What are you doing for the fourth of July, and now does it work with work when the fourth falls mid-week? Let's have loads of lovely postings, shall we, whilst I hit the road to dreamland, happy to have had a great Kritzerland at Sterling's 89.