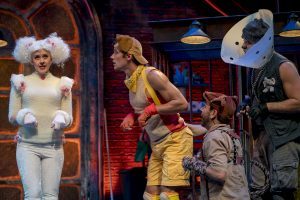 (all photos by Daren Scott)
If you are not now and forever a Cats person and you never saw the short-lived Sherman Brothers musical Dawgs! then Mutt House, a guest production at the Kirk Douglas Theatre, may be the canine centric musical you have been panting for. Tony Cookson created the show and wrote the book. He also contributed to the music and lyrics along with John Daniel, Robb Curtis Brown and David O. The show has plenty of heart and spunk but just doesn't make much of a lasting impression.
Eddie (Ryan McCartan) is developmentally stunted; he is so much more comfortable among animals than humans that he has lived the past six years in the storeroom of the local animal shelter. He can actually talk to and understand the dogs which is the best part of Cookson's book. When he finds out from his father figure/boss (Boise Holmes) that the shelter will be closing in a day and the dogs exterminated, he rouses himself into action. He pleads with the politically ambitious Mayor (Heather Olt) to keep the shelter open and in the process reconnects with one of his junior high crushes Hannah (Claire Adams). Not much of a tale to tell and with too many musical numbers, the show tends to lose steam.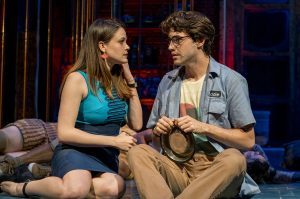 The cast is energetic and in good voices, you just wish they had some better material to sell. The denizens of the pound—Gabriel Gonzalez (Chihuahua), Amanda Leigh Jerry (Mutt), Valerie Larsen (Poodle), Garrett Marshall (Pit Bull), Ben Palacios (Labrador) and Max Wilcox (Corgie)–are a varied lot and their costumes (Allison Dillard) and individual personalities provide variety and enjoyment.


Kirk Douglas Theatre, 9820 Washington Blvd. in Culver City. Ends Aug. 5. www.mutthousethemusical.com