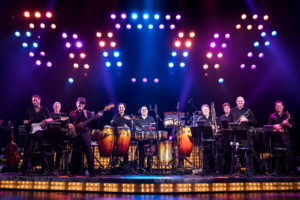 (all photos by Matthew Murphy)
George M in 1968 may have been the first biographical jukebox musical to play Broadway and another bio/jukebox combo Yankee Doodle Dandy, using many of the same songs to basically tell the same story of the life of George M. Cohan recently played in Long Beach. The Boy From Oz in 2003 telling the life story of Peter Allen was a big hit but only ran 364 performances because of the star's (Hugh Jackman) film commitments. Celebration Theatre mounted a lively and intimate production two years ago. The most successful of the bio/jukebox combos is 2005's Jersey Boys which ran for 4,642 performances. Currently on Broadway is Beautiful The Carole King Musical which is at 1,888 performances and counting. New to Broadway this past season was Summer The Donna Summer Musical and opening later this year will be The Cher Show about guess who? The National Tour of On Your Feet! The Story of Emilio and Gloria Estefan is currently at the Hollywood Pantages Theatre and it will probably rank as the feel good musical of the year because the "Rhythm is Gonna Get You."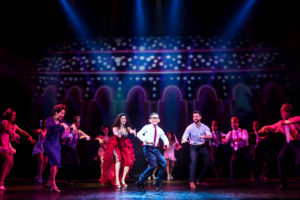 Estefan and the Miami Sound Machine she fronted produced music that just defied listeners to not move their feet. The story of how the teenaged Gloria met the bandleader Emilio and together they produced a string of Latin flavored hits, crossing over from the Latin to the Pop charts is simply told in Alexander Dinelaris's book. The script is charming and contains plenty of humor as well as heart. But the more than two dozen songs are the real stars of the show.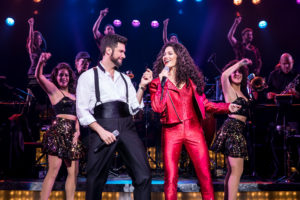 The leading performers Christie Prades (Gloria) and Mauricio Martinez (Emilio) have great chemistry and easily portray a couple with talent and the will to make the most of it. Prades embodies the spirit as well as the vocal sounds that made Estefan a worldwide favorite. Nancy Ticotin stands out as Gloria's mother whose own dreams of a singing career were halted when she had to flee Cuba during the Castro revolution. Ticotin gets one number to sing and she sizzles and dazzles with undeniable star quality.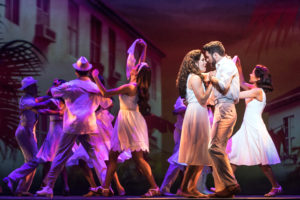 Jerry Mitchell's direction is fluid and the show progresses easily through the many scenes and numbers aided by David Rockwell's simple yet effective scenic design and Darrel Maloney's projection design. Kenneth Posner's lighting gives the musical numbers a concert like feel yet soulfully highlight the quieter, dramatic scenes.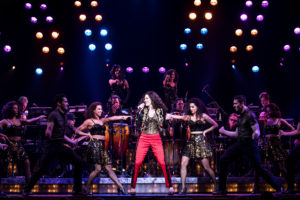 The music sounds splendid as played by the onstage band under the musical direction of Jorge Casas and Clay Ostwald. Sergio Trujillo's choreography is lively and expertly executed by the triple threat ensemble. Miss On Your Feet! at your own peril.

Hollywood Pantages Theatre, 6233 Hollywood Blvd. in Hollywood. Ends July 29. www.pantagestheatre.com