Well, dear readers, I am still recovering and coming down from Saturday's show and all my residual soreness, and also the fact that it was one night and done, after all that work.  We will have some video that I'll share at some point.  I did get eight hours of sleep, and that helped, but I was still zonked and just feeling logy.  That was all made irrelevant by the most wonderful and lovely posts on Facebook about the show, and also e-mails from all sorts of nice folks.  I was grateful they all realized there was actually a director and that said director actually did something.  Normally with these kinds of things everyone assumes that it just magically happens – everyone shows up and somehow there's a show, which is, of course exactly how it doesn't happen.  So, that was a lovely way to spend the late morning and it was a rather pleasant Valley Sunday.
Then I went and picked up the packages that had arrived on Saturday, then went to my local Jersey Mike's.  I'd enjoyed the turkey and provolone sandwich that I'd had on Saturday so I wanted another. There was quite a long line but they moved it along pretty quickly.  I got my sandwich, the large one that's really like having two sandwiches, as I didn't really want to go out again, and it was around 1000 calories, which was fine. I had it Mike's way, which is just lettuce, tomato, onions, spices, oil and vinegar and that's it.  I brought it home and ate half right away and put the other half in the refrigerator.  Then I listened to music and relaxed.  I couldn't bring myself to do any work on the Kritzerland show, I just didn't have it in me, so I'll do that today.  The helper came by and picked up invoices and he'll be shipping out Leonard Bernstein Revisited and Lenox Avenue tomorrow.  We're still waiting on Advise and Consent, which is now unfortunately a week late.  Hopefully by the end of this week. 
Then I decided to pay a visit to a Doug Haverty little cast party he was having. I stayed an hour and said hey to a few folks, but I was just not my perky self for reasons you know.  Then I came home and listened to more music, including some Chuck Mangione albums.  The only Mangione song I'd ever heard was Feels So Good, so it's fun discovering some of this music.  This was one of those 5 Original Albums sets – five CDs with mini-LP jackets for sixteen bucks.  The first two albums were okay, but the magic hit in Feels So Good, where everything just came together, and I have to tell you that is in large part to our very own Grant Geissman who joined the band with this album.  His work is incredible and you should have it.  I listened to other stuff, too.
But before I get into today, how about some photographs?  Here is the ubiquitous Sami and me photo.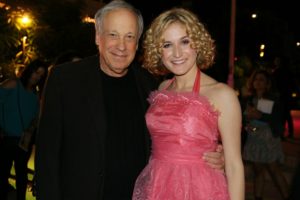 Here's Richard Sherman with our Susan and Sharon, Maggie Balleweg (on the left) and Autumn Jessel (on the right).
Here I am with Jenna Lea Rosen.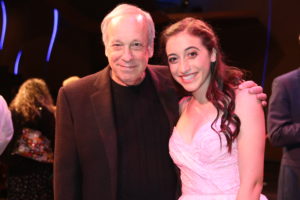 Here I am with Linda Hart and Sami.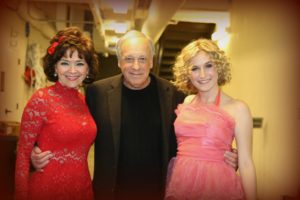 Here with just Linda.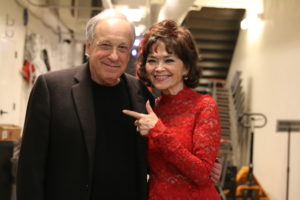 Even though it's fuzzy, here's little Peyton Kirkner onstage doing her number.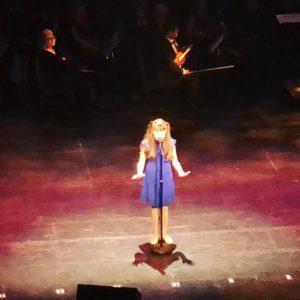 Here's a shot of Sami doing hers.
And another.
And here's Jenna and Sami doing our opening number.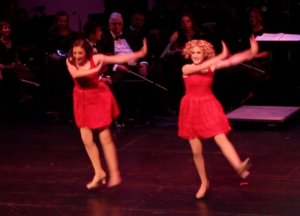 And here's the finale with a stage filled with folks.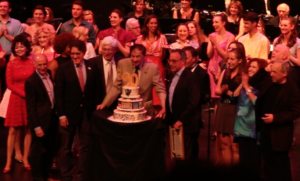 Today, I have a rehearsal at noon with Kay Cole, and then I think we're going to grab a bite to eat somewhere afterwards.  Then I'll attend to the Kritzerland show and send everyone their music.  After that, I'll start slowly catching up on e-mails and other stuff that I've had to let slide.  Then I have some event to go to at seven – Adryan Russ invited me and I have absolutely no memory of what it's actually for, but I'll find out soon enough.
The rest of the week is meetings and meals, meals and meetings, getting ready for the last of our musical theatre workshops at the Group Rep on Saturday, and a ton of other stuff. 
Well, dear readers, I must take the day, I must do the things I do, I must, for example, rehearse, eat, hopefully pick up some packages, finish assigning songs and get everyone their music, catch up on e-mails, and then go to an event. Today's topic of discussion: What were your favorite albums of the 1980s?  Let's have loads of lovely postings, shall we, whilst I hit the road to dreamland, happy to have had a pleasant Valley Sunday.