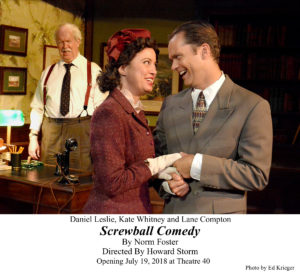 The screwball comedy genre of films was popular during the Great Depression. It Happened One Night is considered to be the first followed by My Man Godfrey, Bringing Up Baby, His Girl Friday,The Philadelphia Story and a host of others. Some of the key elements were a strong female that dominated the leading male character as the two engaged in a humorous battle of the sexes, fast-paced repartee, farcical situations and plotlines involving courtship and marriage. Add in a wise-cracking butler (usually played by Franklin Pangborn or Edward Everett Horton) or a sassy secretary or maid (think Eve Arden or Thelma Ritter) and you have a comic classic in the making. Canadian playwright Norm Foster checked all of the above and included them in his play Screwball Comedy, making its USA Premiere at Theatre 40.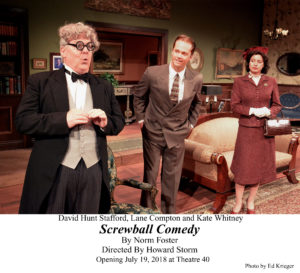 Mary Hayes (Kate Whitney doing a great job of channeling her inner Rosalind Russell) is a recently out-of-work perfumier who plucks up her courage to apply for a job as a reporter. She is in luck because crusty editor Bosco (Daniel Leslie) is in the mood to hire since his star reporter Jeff Kinkaid (Lane Compton) is letting his nightlife interfere with his reporting. He assigns them both to cover a local society wedding and whoever writes the best story either earns a new job or gets to keep his job. Mary and Jeff are at odds from the get-go as befits the genre. At the mansion of the Diddles (cue a giggle here from Mary), they find out from Dolores (Sharon Shayne), who is also the newspaper's publisher, that she really wants them to expose her idle son Chauncey's (Niko Boles) fiancée Gloria (Jean Mackie) as a gold digger. It takes a while and some lucky breaks for them to not only expose Gloria but also Dolores' husband-to-be Peter (George Villas) as money grubbing schemers.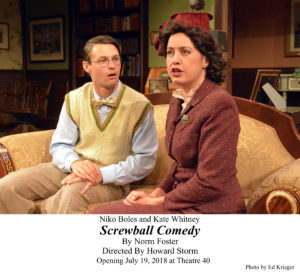 Unfortunately Howard Storm's direction lacks the fast pacing required to make a screwball comedy run like a Swiss watch. Most of his cast takes too leisurely a time with their words and actions. Whitney seems settled into the style but Compton needs to polish his repartee a bit more. Boles shines in his one scene as the indolent son who really is hiding his talents. David Hunt Stafford as the resolute butler and Gail Johnston as Bosco's irreverent secretary Jonesy do well with their characters but could juice up their deliveries a smidge. Foster has the lingo and the plotting down pat except for an extraneous final scene that seems to exist only to recap events we have already seen concluded and to throw in a few water cooler jokes. Some judicious pruning would help there as would a good dose of the energizer bunny's zip to speed up the pacing.

Theatre 40, 241 S. Moreno Dr. in Beverly Hills. Ends Aug. 19. www.theatre40.org