Well, dear readers, here we are in the middle of summer, the weeks and months flying by, like a gazelle playing a trumpet in a wading pool filled with Swedish fish, whilst saying, "The dingo stole my baby."  I mean, July is almost over – how did that happen?  How can it already be a week since we did the Sherman event?  Oh, speaking of the Sherman event, here's a nice photo of this dear man who I love very much – the gal on his right is his daughter Vicky.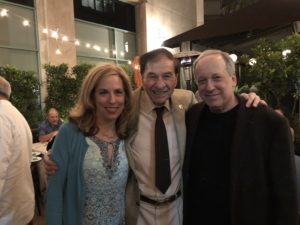 As I write these here notes I am sipping ginger ale as my tummy is a little upset.    Yesterday was kind of a fun little day.  I was up at eight, showered, and then she of the Evil Eye arrived and I moseyed on over to the Group Rep to do the last of the three musical theatre workshops.  It was a smaller group than we've had before – only about ten people – there were probably six no-shows, and then other members are rehearsing the next show.  But our group included three people who's first time, so that was fun.  We began with a vocal warm up, then I told a little story about negativity and positivity in singers – it was a fun story and they really got the point of it, I think.  Then we began singing.  Everyone did a full song.  I stopped them much more this time around.  First I let them sing it, gave them some pointers or thoughts, then they began again and sometimes I'd stop them pretty frequently to work on intention or rhythm or whatever I felt needed to stronger.  I like them because they're very willing to try.  We took a break after ninety minutes.
Some people didn't have a second song, so the ones that did did that and we did the same thing.  Then I got everyone on their feet for my little strength in numbers game, using It's a Small World, first singing it as a group, loudly and with huge energy – everyone was confident and on pitch.  Then we began again and I pointed at people and they'd have to do the upcoming line as a solo – suddenly confidence not as high, a bit more tentative, but by the end of doing that for twenty minutes the solos were as strong as the group stuff.  It was fun and I think everyone had a really good time and learned some stuff and felt good about taking the notes and doing better.
After that, Doug, Doug's daughter Hartley, Alexa Giraudon (who sang) and I went to Barone's.  I had a dinner salad, and we all shared a large pizza.  I had three slices, which is the equivalent of not more than two regular slices of pizza, so that was pretty good.  Everyone loves that pizza a lot.  Doug and I hammered out our audition schedule, which will commence in about two-and-a-half weeks.  After that I picked up a couple of packages and came home.  I knew I wasn't going to really do anything but listen to music and maybe watch something.  I didn't end up watching anything, but I did end up bringing about thirty more CDs in the house and listening to a few.  I am totally mad for this singer Lucy Reed, who I heard a few days ago on a 50s album with Bill Evans – her other CD is equally good – she's just got a unique voice with a HUGE range, her phrasing and way with a song are like nothing you've quite heard, and her version of Love for Sale is also like nothing you've ever heard.  I listened to more George Shearing, some Oscar Peterson, the soundtrack to The Sicilian Clan by Morricone, and some Johnny Smith guitar albums.
At some point I went to Ralphs to get some waters, and I got three drummettes.  I came home and ate them and within ninety minutes my tummy began feeling queer, so I took Pepcid and began sipping the ginger ale.  Otherwise I just relaxed, which is what I needed to do.
Today, I'll sleep at least to ten if not eleven, get up, and then I have a one o'clock brief meeting about a potential project.  Then I'll eat, listen to music, and I'll definitely watch something or other. 
Tomorrow I have stuff to do and I'm starting to figure out the eighth anniversary show. Then I'm going to the dedication of the Sherman Brothers stage at Disney, a reception, and then a screening of Christopher Robin.  Should be fun. 
Tuesday is our first Kritzerland rehearsal, then it's meetings and meals, our second Kritzerland rehearsal, our stumble-through, then it's sound check and our show.
Well, dear readers, I must take the day, I must do the things I do, I must, for example, sleep in a bit, have a meeting, eat, relax, and listen to music.  Today's topic of discussion: It's free-for-all day, the day in which you dear readers get to make with the topics and we all get to post about them.  So, let's have loads of lovely topics and loads of lovely postings, shall we, whilst I hit the road to dreamland, happy our last musical theatre workshop went well and that the dingo stole my baby.