Well, dear readers, I am sitting here like so much fish pondering the imponderables such as how do the days and nights go by so fast, why is the sky blue but the grass green, when will the dodo bird make a return, and when will I actually start writing these here notes?  All while listening to a marvelous but horridly mastered CD from the 1980s entitled My Friend by Neil Sedaka.  This is a compilation assembled after the death of his longtime lyricist, Howard Greenfield.  It's mostly later tracks, none of the early stuff.  I remember very well buying the LP of Sedaka's Back and thinking it was one of the greatest comeback albums in history, and then The Hungry Years, which was even better.  The guy could write a tune, let's face it, and I like his voice, too.  It was one of about seventy vocal CDs I found in another box I opened – all those were in the garage in the old house for six or seven years so I never played any of them for all those years.  So, I'm hell bent for leather and to catch up on listening to what I know are some classic albums.
Yesterday was a perfectly okay day.  I got seven hours of sleep, got up, answered e-mails, had some telephonic calls, prepped our new release, took some music to Staples to get Xeroxed but they couldn't get right to it so I said I'd come back around four.  I came back home, did some organizing, and then Sami came over with a pianist we both like, and we went over the solo she's doing in the Sherman show.  It's actually the only non-Richard song in the show, a little one-song tribute to Richard's father, songwriter Al Sherman.  This was recommended to me by Richard's son, and I really liked it, and so did Sami.  So, we whipped up a fun go-through and it sits perfectly in her voice – a swing tune – and she's going to great with it. 
After that, Grant and his ever-lovin' Lydia and I first picked up the music at Staples, then Grant picked up a couple of framed items across the street, and then we moseyed on over to Hugo's for excellent food.  My pasta papa was great – obviously the change in chefs happens at five so I'm safe before that.  We had lots of fun, then I came home and decided to tackle some stuff in the garage. I was out there for an hour or more, found all the CDs and brought them in the house.  So rather than watching something, I began listening and it's been ever so much fun – now playing, Sinatra's album Softly As I Leave You, most of which is just wonderful, especially Emily, Dear Heart, the title track, and Come Blow Your Horn. 
So, that was most of the night, save for getting the announcement ready.  And the announcement is our latest release is another great release in our Julius Monk revue series, this one Four Below Strikes Back, a delightfully delightful bit of fun, starring Nancy Dussault, George Furth, Jenny Lou Law, and Cy Young.  The writers are the usual assortment: Tom Jones, Bud McCreery, Bruce Williamson, Walter Marks, and others.  No audio samples yet, but soon.  Here's the cover.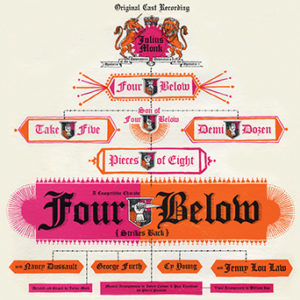 Then it was back to music and stuff.  Of the upcoming pile of CDs, I'm most looking forward to Harpers Bizarre and the greatest hits of the Lovin' Spoonful. 
Today, I have organizing to do, I'll eat, I'll hopefully pick up some packages, but mostly I need to relax – and cast the final two women for Kritzerland – I haven't had a second to do it and must. 
Tomorrow has to be a ME day, then Sunday it's non-stop until the event.  Sunday we have four or five people rehearsing, Monday a few and then we attend the orchestra rehearsal to make sure the timings of their four pieces are what they should be, then we have rehearsals every day, another meeting at the theater, the stage manager will begin to take over all the stuff I've been doing and don't want to deal with anymore, then we have our day in the theater, all the sound checks and then the event.
Well, dear readers, I must take the day, I must do the things I do, I must, for example, organize, eat, hopefully pick up packages, hopefully print out a LOT of orders, cast, and then relax.  Today's topic of discussion: It's Friday – what is currently in your CD player and your DVD/Blu and Ray player?  I'll start – lots of vocal CDs.  Blu-ray, nothing.  Your turn. Let's have loads of lovely postings, shall we, whilst I hit the road to dreamland, happy to be reacquainting my self with all these wonderful vocalists.