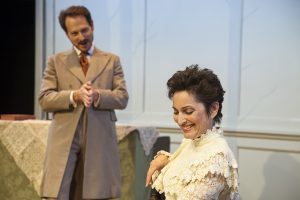 Leo Marks and Nike Doukas (all photos by Geoffrey Wade Photography)
According to the Director's Note in the program for the current Antaeus Theatre Company's production of Patrick Marber's Three Days in the Country, his version of Turgenev's A Month in the Country, Turgenev's play inspired Anton Chekov to write for the theatre. It's difficult to see how that was the cause since Chekhov always claimed he wrote comedies (although most directors seem to direct his plays as dramas). Oh, those Russians! Turgenev's four-and-a-half hour play has little humor and a lot of speechifying. Marber has not only reduced Turgenev's month to three days but he has also cut the running time down to a brisk two hours.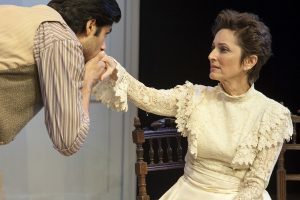 Peter Mendoza and Nike Doukas
The action takes place on the country estate of Arkady (Antonio Jaramillo). His wife Natalya (Nike Doukas) is bored and willful and their son Kolya's (Elijah Justice) new tutor Belyaev (Peter Mendoza) is causing a stir. The handsome, young tutor has the womenfolk all disturbed. He's bedding the maid Katya (Lila Dupree) while Natalya and her young ward Vera (Jeanne Syquia) have both fallen hopelessly in love/lust with him. When Natalya discovers he's the object of Vera's first crush, she agrees to marry her off to elderly, but rich neighbor Bolshintsov (Alberto Isaac). Bolshintov is aided in his courtship by Dr. Shpigelsky (Armin Shimerman) who in turn is emboldened to propose marriage to the spinster Lizaveta (Lily Knight).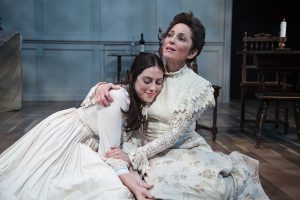 Jeanne Syquia and Nike Doukas
Director Andrew Paul has a deft touch and all the comic moments Marber has written are delightfully enacted by the company. The cast imbues these Russians with real passion as they struggle with all the various permutations of love. It's a rollicking good time led by the superb Doukas who commands the stage every moment. She is given good support by Leo Marks as Rakitin, a family friend who has been hopelessly carrying a torch for her for many years. Shimerman and Knight are delightful in what might just be the funniest proposal scene ever written. The large cast is not as sharp as we have come to expect with Antaeus, but there are no major disappointments to be seen. As usual with Antaeus, the roles are double cast so you may see different actors depending on the performance you attend.
Kiki & David Gindler Performing Arts Center, 110 E. Broadway in Glendale. Ends Aug. 26. www/antaeus.org