Well, dear readers, why am I putting in all this time, energy, effort, and yes, love to this event that happens on Friday?  The answer is very simple and it's the same answer you'll get from the producer, musical director, and every artist: Richard Sherman, and our love and respect for him, and in my case that is a lot of love as I consider him one of my dearest friends.  So, this is a selfless thing for us – none of the performers are being paid, I'm certainly not being paid, nor is the producer, Richard's son Gregg.  So, when we encounter someone who is not doing it for those reasons, but is doing it for other reasons, things get difficult. Things get difficult when one piece of a puzzle thinks it's all about them and no matter how much they're told it isn't by everyone, those words basically are gone with the wind.  It introduces an element that isn't fun, isn't playing with the team and its goals, and I just scratch my head when I come up against stuff like that.  Fortunately, our team is very much on the same page and we mush on.
I spent way to much of yesterday dealing with such things and it was not that pleasant. In the end it will be fine because everyone else is on the side of the show I've put together and they trust me implicitly, while everyone has seen this other stuff for exactly what it is. It began after I got up (eight hours of sleep) and didn't abate until I finally left the meeting I was supposed to be at for twenty minutes, but because of all this other junk I was there for an hour and twenty minutes and because of that I had horrible traffic coming home and barely had time to grab some food (took home some chicken salad and a bagel from Jerry's) and wolf it down prior to our rehearsals began.  It was a crazy day, but the theater folks are really helpful and very much on my side. I hope the silly stuff stops, but if it doesn't then the producer will have to get even stronger than he was today.
Rehearsals were the best part of the day.  Roz Kind came back – she likes to rehearse a lot and that's a good thing, and she'll be back once more.  Once she was finished then it was Daniel Bellusci and James Singleton, who are doing a really fun three-song medley by Richard and his best friend, Milt Larsen. I staged it a bit, then they went to the yard and practiced the staging quite a bit. 
Then came Carly Bracco, nine months pregnant and probably two weeks away from birthing her new baby boy, Gary.  She's singing a perfect put-together of two Sherman Brothers songs, Stay Awake and Hushabye Mountain.  Then came Brennley Brown again, I listened to her song with and without guitar and we all agreed without was the most honest and emotional way to do it.  She'd worked really hard on mastering the guitar part but in the end it just seemed like an add-on that didn't really add on anything.
Finally we had Keala Settle, who's really fun and will be doing a really fun arrangement of a not that often song by the Brothers Sherman.  Here's a photograph of Brennley, Keala, Gregg Sherman, Richard Allen, and li'l ol' me.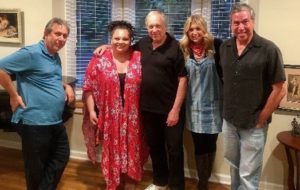 After that, I ate the rest of the chicken salad but was still really hungry, so in the end I made a quick trip to In-N-Out for one cheeseburger and fries. It hit the spot perfectly.  I answered as many e-mails as I could (you must understand I've been getting close to 100 e-mails a day, sometimes more, just about the show), and listened to a lot of music, including a lot of Nancy Wilson, who is pretty terrific, although I'm not always in love with the arrangements.  
Today, we only have one rehearsal at noon o'clock, and then I'll eat, hopefully pick up packages, and then I have to hammer out the lighting script, which will probably take a while, since in order to do that I have to also do my entrance and exits plot.  Busy little day, I'm sure.
Tomorrow is a heavier rehearsal day, and so is Friday, then Saturday I'm at the theater at ten to do the big show day stuff – band rehearsal, lighting "looks", placing everything exactly where it's needed, and then at one-thirty we do sound check until four-thirty.  Then we have an hour break, come back, do one additional sound check thing, and then people arrive and then we do our show. 
Well, dear readers, I must take the day, I must do the things I do, I must, for example, have one rehearsal, eat, hopefully pick up packages, do a lighting script, entrance and exit plot, and then at some point relax.  Today's topic of discussion: It's Ask BK Day, the day in which you get to ask me or any dear reader any old question you like and we get to give any old answer we like.  So, let's have loads of lovely questions and loads of lovely answers and loads of lovely postings, shall we, whilst I hit the road to dreamland, refusing to let one person mar what we did for love.