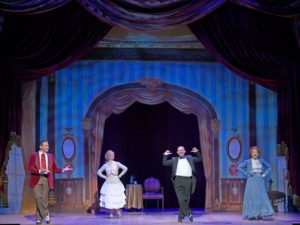 The Four Cohans (all photos by Caught in the Moment Photography)
George M. Cohan wrote, composed, produced and acted in over 30 Broadway productions and wrote over 300 songs during his career. He was known as "the man who owned Broadway" in the decade before World War I and is considered the father of the musical comedy because he integrated not only book scenes into his musicals but also used dance to advance the plot. His statue still dominates Times Square in New York's theatre district. James Cagney won an Oscar for portraying Cohan in the 1942 film Yankee Doodle Dandy and Joel Grey received a Tony nomination for portraying him in the 1968 Broadway musical George M. Now David Armstrong has written the book for Yankee Doodle Dandy!, a new musical receiving its fourth staging courtesy of Musical Theatre West in Long Beach.
Armstrong's book is different from the film version, though they share the same title. In the film Cohan reminisced about his long career with President Franklin Roosevelt in 1942 after receiving the Congressional Gold Medal. Armstrong has Cohan backstage at one of the theatres he owned in 1942, reminiscing about his career with the stage manager. A lot of the same songs are shared by all three versions of Cohan's life, especially his biggest hits "Over There," "Give My Regards to Broadway," "The Yankee Doodle Boy" and "You're a Grand Old Flag".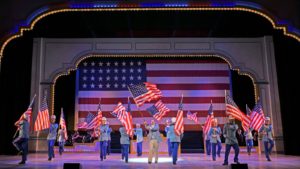 Act One Finale "You're A Grand Old Flag"
A hefty section of the show is given over to recreating scenes and numbers from Little Johnny Jones, the 1905 musical that really made Cohan a Broadway titan. Another longer section deals with Cohan's objection to the 1919 strike by Actors Equity Association which earned him the enmity of many of the Broadway folk he had worked with. Director James Rocco keeps the show moving at a quick pace and as choreographer he has created some great show-stopping numbers. The show is a real crowd pleaser with its patriotic fervor and flag waving, especially in the Act One finale of "You're A Grand Old Flag."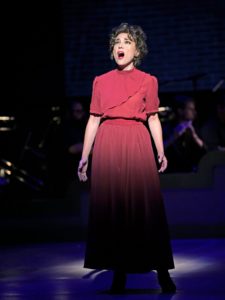 Cassie Simone
The music sounds great under the baton of music director Jeff Rizzo and his onstage band and the cast all display great vocal chops. Adam Wylie proves to be a first class tapper and exudes an endearing earnestness as well as a well-polished ego as George. His is a strong performance but unfortunately he lacks the chutzpah or charisma of a Cohan or a Cagney. He is best in the group numbers with David Engel, Cynthia Ferrer and Tro Shaw as The Four Cohans. Cassie Simone makes an impression as Cohan's co-star and first wife Ethel.


Carpenter Performing Arts Center, 6200 E. Atherton in Long Beach. Ends July 22. www.musical.org