Most cabaret acts set out to entertain their audiences, either by performing a selection of their favorite showtunes or songs from the Great American Songbook or a combination of both. Some acts also set out to educate and inform their audiences by imparting information about the music they are singing or the creators of that music. Usually a performer shares something of their personal life, whether it be how they first came to perform a number or how the number resonates in their life. The best performers combine all of the above, entertaining, informing and creating a special bond by sharing their own life experiences. In his show Comfy, seen August 21 at Sterling's Upstairs at the Federal, singer/actor/dancer Jeffrey Scott Parsons proved to be among the best.
In his spangled, sequined tuxedo, he started the evening off with the up-tempo mash-up of "Shall We Dance" and "Get Happy," tapping his way around the small stage. The enthusiastic audience was more than ready to be happy with his performance. He showcased his dancing prowess again later to a clip of the "Moses Supposes" number from the film Singing in the Rain, tapping along with screen legends Donald O'Connor and Gene Kelly. Parsons also shared his devotion to the film version of Hello, Dolly! with a rendition of "Put on Your Sunday Clothes," explaining that's just what his Mormon farm family did each Sunday in their small town of Willard, Utah. He shared a clip of his family performing his very own California Raisin interpretation of "Rudolph the Red Nosed Reindeer." Family and his Mormon faith are very important to him, yet there was no hiding the fact from viewers of the clip that a budding, and gay, musical comedy performer was front and center.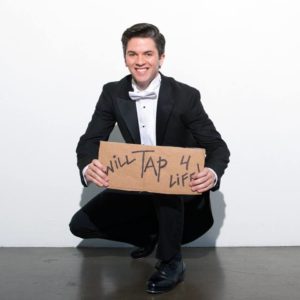 photo by Kate Romero
Parsons show took a very dramatic turn, without losing the interest or the enthusiasm of his audience, when he began to bare his soul about his sexuality and the conflicts it presented for his religion. He performed a very unique Disney Medley that used familiar toon tunes to highlight both sides of the argument of religion versus theatre. And believe me, his soul is not one of those poor unfortunate ones. His blistering, heartfelt, confessional of his struggle to be true to both sides of his life was revelatory and cathartic. He used "I Can Do That" from A Chorus Line and most especially "The Story of Lucy and Jessie" from Follies in a spectacular and heart-wrenching coda to his dilemma. However, he did not leave his audience in the depths of despair, instead offering them hope and faith with his finale of "With So Little To Be Sure Of"/"In Whatever Time We Have." Musical director/pianist Elan McMahan offered gentle support and encouragement as well as wizardly work at the piano throughout. She got to shine in a solo spot (during a costume change for Parsons) with a lovely rendition of "It's a Small World." It is indeed a small world, but a much better world with such brave talents as Parsons and McMahan.