Well, dear readers, there is a lot happening on this day so I think we may as well jump right in and get the lead out.  I don't know what that means exactly – I mean, do I have to go find a pencil and sharpen it?  What the HELL does get the lead out mean anyway?  Well, it means get the lead out, as in get the heavy metal called lead out of your shoes or your pants and hurry up.  I had no idea I HAD heavy metal in my shoes and pants, but there it was and I've now gotten rid of it and I'm hurrying up except that I've just wasted an entire paragraph on the damn lead.
So, first up – we're now entering our second week for the Indiegogo campaign – in the first week we managed to get to 71% of our goal, which is pretty great, amazing really.  But the last three days haven't seen much action, which is typical – the first three days really get the action, then everyone knows there's three weeks left. But I really want to reach our goal early, as we did with the Levi campaign, because then we move into the stretch goal of trying to cover the Indiegogo and credit card fees.  So, we've added several new perks, including two very rare film scripts from the Golden Age that are one-of-a-kind items, and there are still fantastic perks from the original batch – only one perk has completely sold out because there was only one available.  So, here's the direct link to the campaign and let's push this puppy forward and have a great Indiegogo day – share with your friends if you like and just spread the word.
https://www.indiegogo.com/projects/a-carol-christmas-a-new-musical-needs-your-help/x/9165600#/
Second up, we have three new Kritzerland releases to announce – a diverse trio but a great one.  First we have the latest in the ongoing Ben Bagley series, this one Harold Arlen Revisited, one of the best of the series thanks to really fun arrangements by Ralph Burns and Dick Hyman.  As always, we've spruced up the sound and there are new liner notes plus the great Harvey Schmidt paintings.  Here's that cover.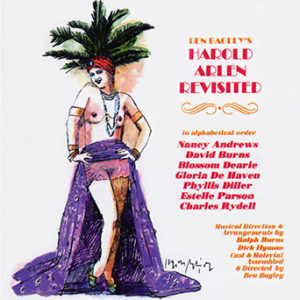 Next we have a historic performance of the George Gershwin/Ira Gershwin/DuBose Heyward opera, Porgy and Bess.  In 1952, there was a tour that began here, and then the US State Department traveled it all over the world.  This performance had a radio broadcast in Germany and it is a tape of that from which this CD comes, albeit with considerable cleanup work done by the great Chris Malone. The cast is brilliant – William Warfield as Porgy, Leontyne Price as Bess, and Cab Calloway as Sportin' Life.  The conductor is Alexander Smallens, who conducted the original premiere production on Broadway.  The most fascinating thing about this performance are the tempos, some of which are so fast I was surprised the singers could keep up – but it's exhilarating and you just can't have better singers than these.  It's a two-CD set and if you love the opera I think you'll find it intriguing and pretty great.  Here's that cover.
Finally, the wonderful composer Soren Hyldgaard, whose brilliant score to The Spider we issued several years ago.  Poor sales resulted in me sitting on the next Hyldgaard release, but I always planned to do it.  Hyldgaard sadly passed away a few months ago, so this is our tribute to this talented and wonderful man.  It's two scores on one CD – his first US film, Red, which starred Brian Cox.  It's a wonderful score, as is its companion, the score to a Danish documentary called Family.  It's just great music and we have quite a little deal with it – anyone who buys Red gets a free copy of The Spider.  Even if some dear readers have that, you can sell the free copy and make some dough.  Here's that cover.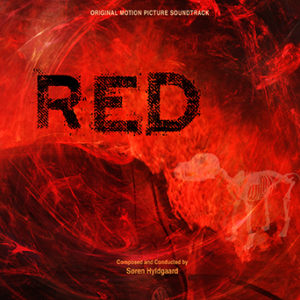 Yesterday was a day that was supposed to be a day of rest, in which I never once rested. I was up at five-thirty for two hours for unknown reasons, then fell back asleep, slept till noon, and then fell back asleep and slept till one, so I got eight hours of sleep, which I needed. Once up, I had to answer e-mails, and then I had to write the blurbs for the three releases, get the eBlast prepared, and all the other stuff one has to do – it took over three hours to get all that done.  Then I had a telephonic call, then finally went to get something to eat.  My intention was to go to Gelson's and get something from the hot food bar, only the selection in Sherman Oaks had nothing to my liking.  I thought about Taco Bell but that wasn't calling me, so I went to Gelson's in Studio City, as their food bar usually has stuff I like.  It didn't.  At that point I was fed up but not fed up, if you get my drift, and so I just went to Hugo's and had my little Caesar salad and my pasta papa – both good.  Then I came home.
Once home, I had more work to do on the computer, more telephonic conversations, and by the time all that was done, there was only time to listen to some music (it was a George Duning evening) and then it was time to write these here notes and get the lead out.
Today, I'll be up early to get the Indiegogo campaign's second week push on the way, I'll hopefully print out a LOT of orders, I'll try to eat a little something, hopefully pick up packages, then we have our first Kritzerland rehearsal and directly after that I have to hurry to judge the finals of that singing contest – so, a very busy day and night.
The rest of the week is meetings and meals, more Kritzerland rehearsals, two back-to-back meetings on Friday, maybe attending an opening night if I have the energy, our stumble-through, and then our sound check and show in our new venue.
Well, dear readers, I must take the day, I must do the things I do, I must, for example, get our Indiegogo's second week push on the way, hopefully print out a LOT of orders, eat, hopefully pick up packages, have a rehearsal, and judge the finals of a singing contest.  Today's topic of discussion: What are your favorite recordings of Porgy and Bess, and if you've seen productions, your favorites of those.  Let's have loads of lovely postings, shall we, whilst I hit the road to dreamland, where I shall hopefully sleep well after getting the lead out.