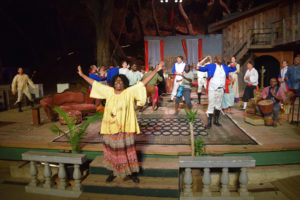 Earnestine Phillips and Ensemble (all photos by Ian Flanders)
The Federal Theatre Project was created by the government during the Great Depression of the 1930s, not as a cultural activity, but as a relief measure to employ artists, writers, directors and theatre workers. During its four years of existence, it played to 30 million people in more than 200 theatres nationwide. It started the careers of such theatre artists as Arthur Miller, Orson Welles, John Houseman, Elia Kazan and Marc Blitzstein. Congress cancelled funding in 1939 because of objections to the overly left-wing political tones of less that 10% of their productions.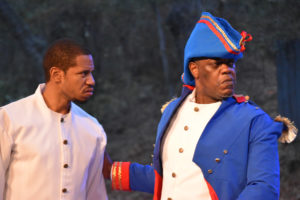 Max Lawrence and Rodrick Jean-Charles
The Negro Theatre Unit of New York City was part of the FTP and one of its productions was the play Haiti by William DuBois. The play was a melodramatic recounting of the uprising of the black population of the country of Haiti against the French army sent by Napoleon in 1804. A subplot touching on the issue of miscegenation caused controversy as well as the fact the cast was half white/half black. The show ran at the Lafayette Theatre in Harlem in 1938 and has not been produced again until Will Geer's Theatricum Botanicum in Topanga Canyon mounted it this summer. It's a piece of theatre history and for that reason alone it should be seen by any theatre lover. Haiti is also a rip-roaring good time.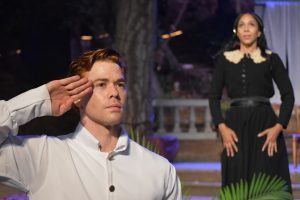 Dane Oliver and Tiffany Coty
Napoleon's plan for world domination required a foothold in the Americas so he sent his troops to colonize Haiti. But the Haitians had just won their freedom from the original British colonizers and wished to stay free–therefore, resistance. Leader Touissant L'Ouverture (Rodrick Jean-Charles) and General Christophe (Max Lawrence) take their army into the hills and wage a war of attrition against the occupiers led by General Leclerc (Mark Lewis), husband to Pauline (Lea Madda), one of Napoleon's sisters. Colonel Boucher (Jeff Wiesen) is the abusive husband of the mixed race Odette (Tiffany Coty) who has inherited a lot of property on Haiti from her deceased grandfather.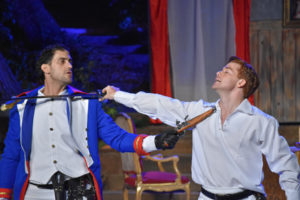 Jeff Wiesen and Dane Oliver
The melodrama really kicks into high gear when it turns out the black maid Jaqueline (Earnestine Phillips), who stayed behind to spy on the French, is actually the mother of Odette and Odette is really in love with Captain Duval (Dane Oliver), who longs to challenge Boucher to a duel to the death. Director Ellen Geer keeps the plot boiling at a slow burn until the climactic battle. She makes great use of the natural hillside that surrounds the Botanicum's stage and provides space for the constantly skirmishing Haitians and French. Dane Oliver's pow-bang-pop-ouch fight choreography is extremely lively and well plotted and a character unto itself.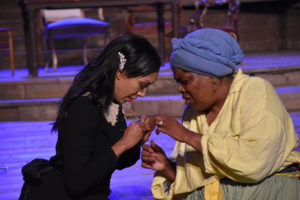 Tiffany Coty and Earnestine Phillips
With the overheated melodramatic tone of the script, it's not easy for the performers to create moving performances. A gender swap has aided immensely by making Odette's father now her mother and the show's most touching and endearing moments are shared by Phillips and Coty. Lawrence brings passion and fire to his role as the revolutionary general while Oliver manages to create a believable brash, young officer but also a man of honor. Madda adds some much needed comic relief as the beleaguered want-to-be royalty.

Will Geer's Theatricum Botanicum, 1419 N. Topanga Canyon Rd in Topanga. Ends Sept 29. www.theatricum.com