Well, dear readers, I'm happy to say that Kritzerland at Sterling's 90 was a pretty wonderful show.  Everyone did a great job – there were two fumfers only and both performers covered them so beautifully that no one knew a thing.  One was in Sami's Too Darn Hot – she jumped some music before the second part of the number, but Richard Allen was right there with her and no one knew. Daniel Bellusci simply went up on the final two verses of Let's Not Talk About Love, but just repeated the two verses that came before and did them with such conviction and energy that no one had a clue.  Pros, nothing like 'em.  Sami did a great job with her other numbers – it was a wonderful last show for her, until we have her back on a break or in the summer.  After working with this girl so closely for six solid years, it was very bittersweet – she's done more Kritzerland shows than anyone, and has done Pure Imagination, Li'l Abner, and Welcome to My World for me.  The growth in this young woman has been astonishing, but you can actually watch it happen – it's all on the Tube of You.  We'll miss her. 
Damon Kirsche was his usual dashing self and sang beautifully – but then again he was born to sing this material.  Daniel has become an audience favorite – they just love him.  Heather Lee is a treasure and we haven't used her enough.  Her songs were all funny and all got great laughs. She came to me with an idea for My Heart Belongs to Daddy – I told her what the upsides and downsides were, but in the end we decided to do it.  So, she sang the first chorus, then brought forth a little placard with Donald Trump's face on it, and the audience got it right away (that she was doing Ivanka) and it got great laughs.  She also had images of Jared and Putin.  The audience went along with it and all was well.  Andrea Marcovicci was her usual great self, with Shelly Markham playing for her two songs.  Richard Allen did a great job playing for the rest of us.  I sang True Love accompanied only by Grant and that went really well, Grant's solo turn (with Richard on piano) was You'd Be So Nice to Come Home To and he tore up the joint.  He's really brilliant.  Finally, Sami and I did our You're the Top, which we'd done four years ago at our last Cole Porter show.  It was mildly fun back then but didn't land the way I wanted, so this time I totally redid the specialty lyrics and boy did they work.  Here's a little example – some Cole, mostly me.
You're the top
You're a home run hitter
You're the top
You're a trend on Twitter
You're a vintage wine, a Rolls Royce, a Steinway grand
You're the National Gallery
Tom Cruise's salary
You're – KRITZERLAND!
And then:
You're the best
You're a Scottish tartan
You're the chest
Of Miss Dolly Parton
And for the encore verse:
BK: You're the top
You're the belt of Merman
SAMI: You're the top
You're the brothers Sherman
BK: You're a Broadway show, a standing O, a smash
SAMI: You're a hot pastrami
An origami
You're loads of cash
You're the top
You're a Scenie winner
BK: You're the top
You're a Ruth's Chris dinner
'Cause I'm no Guy Haines I am taking pains to stop
SAMI: And if BK I'm the bottom
BK: If Sami I'm the bottom
BOTH: If baby I'm the bottom you're the top.
We had so much fun doing it.  We had a smaller than usual house, about fifty-eight people, but they were a great audience.  The patter worked really well, too, with lots of laughs.  And we had a Kritzerland first: Daniel's first number should have preceded Andrea's first number, but somehow I didn't write any patter or intro for it.  When I write the patter I have the show order document open and side by side.  I don't know how I missed it, but Grant came and whispered to me that I'd skipped it, so I had great fun with some senile jokes and then bringing Daniel out. 
At the end of the evening I dropped our announcement bomb that this was our last show at The Federal.  I suspect everyone is happy about it and I know it's the right thing to do.  I also dropped the bomb that beginning with the eighth anniversary show we'd be doing our final ten shows, ending our monthly series with our hundredth show, and that we'd then do three or four specials a year, like Jack Benny used to do.  After, writer D.C. Fontana came up to me and said, "You can't stop doing them every month, we need them."  It was very sweet.  But for eight years doing one of these month in and month out has been more than a little insane – I really don't know how I've done it.  Casting, coming up with the shows, choosing the songs, rehearsing, structuring, writing the commentary every four weeks.  But we're the longest running monthly cabaret show of this type in LA history and probably history period and I'm very proud of that.  We've also spawned a host of imitators trying to do what we do.  I suppose that it's flattering on some level and I'll just leave it at that.   Here are some actual photographs.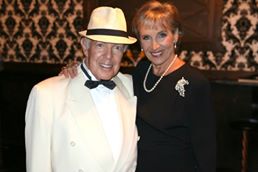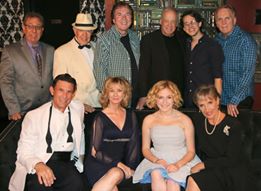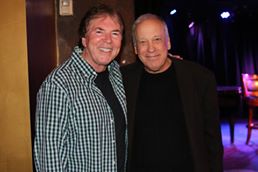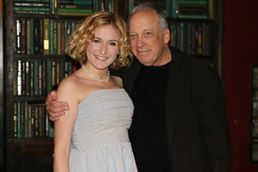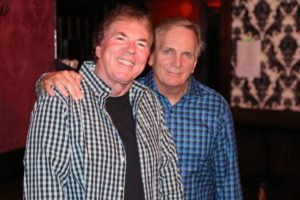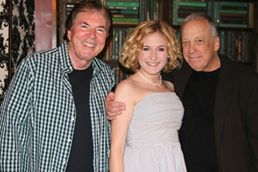 After, some of us went over to Little Toni's for food. I had only eaten a little salad at The Federal, so I had some buttered noodles with romano cheese and garlic. Sammy had a third of them, so it wasn't too much food and it was very good.  That was fun. 
Prior to all that, I'd gotten eight hours of sleep, then just relaxed and rested my voice, got ready, and then moseyed on over to The Federal for sound check and the rest you know.
Today has to kind of be a day of rest for me aka a ME day.  I will try to cast our two female slots for the September show and I'll star thinking about the material now that I pretty much know who's in it. I'll eat, I'll hopefully pick up packages, and relax.
The rest of the week is meetings and meals, going and doing and doing and going, finishing up the little reprise I've been working on and getting that to Richard Allen so he can do a track for it (I'm sure he'll reuse what we used for the song proper – just starting out rubato). 
Well, dear readers, I must take the day, I must do the things I do, I must, for example, have a day of rest, cast, start thinking about material, eat, hopefully pick up packages, and relax.  Today's topic of discussion: What are your favorite pieces of Michel Legrand music? Let's have loads of lovely postings, shall we, whilst I hit the road to dreamland, happy to have had a wonderful final Kritzerland at Sterling's 90 and looking forward to Kritzerland Upstairs at Vitello's 91.