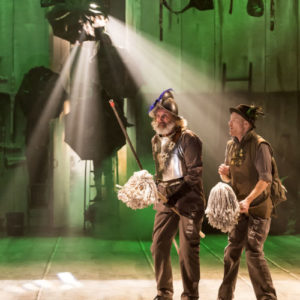 Geoff Elliott and Kasey Mahaffy (all photos by Craig Schwartz)
A Noise Within, the acclaimed classical repertory theatre in Pasadena, had rarely staged a musical in their first 25 seasons. Last year they mounted a visionary production of Man of La Mancha, the 50-plus year old musical retelling of Spanish novelist Cervantes befuddled knight errant, Don Quixote. With a book by Dale Wasserman, music by Mitch Leigh and lyrics by Joe Darion, it was a sensation in 1965 and has been produced around the world. Under the inspired direction of Julia Rodriguez-Elliott, it felt as vibrant as ever, with a new sense of immediacy and uncontrollable danger. The action was set in modern times, a holding tank for prisoners reminiscent of third-world prisons and military detention centers. The show proved to be a critical hit and an audience favorite, resulting in sold-out houses, extensions and now, a remounting with most of the original cast in place.
Fred Kinney's scenic design places the action in the pit of hell which easily transforms itself into the various locations the imprisoned poet Cervantes needs to tell his tale to get his all convict jury to exonerate him before he faces the even more scary court of the Spanish Inquisition. Ken Booth's masterful lighting is harshly bright and poetically soft as fits the mood of the scenes from tragic to comic. Angela Balogh Calin performs her usual wizardry with the utilitarian costumes, making use of everything from garbage bags to combat boots to pots and pans. The seven-piece band, under the musical direction of Dr. Melissa Sky-Eagle, makes the score sound fresh as well as electrifying as it ranges over several Spanish styles including flamenco and bolero. Martin Carrillo's sound design makes every word, every lyric, crystal clear. Props Master Erin Walley and director Rodriguez-Elliott deserve special mention for their innovative use of the simplest of items for maximum effect-mops as horses, tattered umbrellas transform into a windmill, cafeteria trays are truth-revealing mirrors and on and on. This is one perfectly realized production from beginning to end.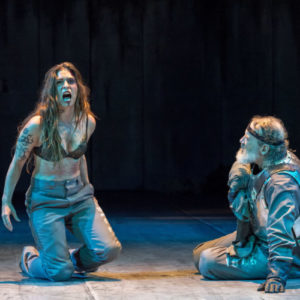 Cassandra Marie Murphy and Geoff Elliott
Not only has Rodriguez-Elliott created this modern, brutal setting and re-envisioned the trappings, she has elicited heartfelt and heart-rending performances from her cast of twelve (I counted them several times to make sure it was only an even dozen), many playing multiple roles as they partake in the play-acting. The triumvirate of leading performers is exceptional. Geoff Elliott enacts the childish joy of Quixote, always up for a quest or adventure to earn the good graces of his lady. He perfectly balances the comedy and drama of his three roles. His rendition of "The Impossible Dream" reaches for dramatic heights and attains them. Kasey Mahaffy delivers a fresh take on servant/friend Sancho. Usually played as a roly-poly comic relief character, Mahaffy offers true depth to the character and his relationship with his master/friend. Cassandra Marie Murphy scorches the stage with her performance as Aldonza, "the kitchen slut reeking with sweat." Her fire, her anger, her ferocity start to melt away under Quixote's kindness and affection. It is a truly beatific moment when she assumes the nobility that is the birthright of Quixote's lady Dulcinea. Brava Diva!
Gabriel Zenone, Michael Uribes, Cassie Simone, Jeremy Rabb and Cynthia Marty quickly morph from one character to another. At first the prisoners are skeptical but they are soon caught up in the sheer theatricality of Cervantes's storytelling. The sextet of men playing the rough Muleteers blend their voices beautifully on "Little Bird, Little Bird" early on then use the same tune to underscore the brutal violence during the rape and abduction of Aldonza as they perfectly perform Kenneth R. Merckx, Jr.'s fight choreography. If you saw Man of La Mancha last year, you know you want to experience it once more. If you missed it last year, don't make the same mistake again.

A Noise Within, 3352 E. Foothill Blvd. in Pasadena. Ends Sept. 9. www.anoisewithin.org