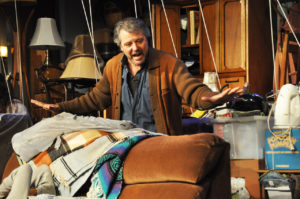 David Mingrino (all photos by Garry Kluger)
The television series Hoarders has been a staple on the A&E network since 2009. I must admit I have never seen a single episode. I must also admit I was accused of being a "hoarder" in the 1990s by two friends who were disturbed at the large stacks of L.A. Times newspapers they saw in my apartment. I had been a daily subscriber for decades and usually managed to make it through the Entertainment and Sports sections each day but the other sections I put aside to read when I got the time. Unfortunately I never seemed to get the time and the stacks mounted halfway up the walls. Eventually I would move to another apartment and the newspapers ended up in dumpsters, still unread. Now, like most people, I get my news on the Internet so no intervention necessary.

Ashley Victoria Robinson, David Mingrino and James J. Cox
Newspapers are just one of the seemingly thousands of things that Barry (David Mingrino), the middle-aged hoarder and title character in Benjamin Scuglia's new play The Man Who Saved Everything, collects in his overstuffed house. The overly cluttered scenic design by Evan A. Bartoletti is a character unto itself and unfortunately also the most interesting one in this 85-minute intermission-less World Premiere at Theatre West. The L.A. County Department of Mental Health Hoarding Fact Sheet included in my press kit was more informative than the play which is basically a kitchen sink family drama without the kitchen sink.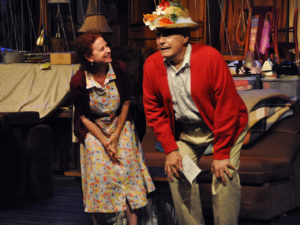 Julia Silverman and Alan Schack
Barry's home is about to be bulldozed to make way for a new mall; deconstruction has already started down the block. His niece Darla (Ashley Victoria Robinson) and an old college buddy Chuck (James J. Cox) both attempt to stage an intervention and convince Barry it's time to move out. Barry collects things familiar to him; he collects to hold unto the memories. Memories of the father (Alan Schack) whose love he craved and never received and memories of the emasculating wife/mother (Julia Silverman) who always belittled both men. Why he would want to hold on to those memories is one of the many conundrums in Scuglia's script. The acting is serviceable under Michael Van Duzer's direction but even at 85 minutes the play feels repetitive and too long. The staging's most innovative touch is The Collectibles (Ivy Miguel and Loida Navas), who act as always-on-view stagehands handling the many props. Their colorful costumes by Maxine Etchison are a highlight.

Theatre West, 3333 Cahuenga Blvd West in Los Angeles. Ends Sept. 23. www.theatrewest.org